Orchestras for All welcomes Susanna Eastburn MBE as new Chair of Trustees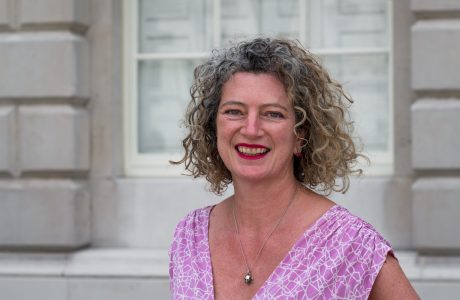 Orchestras for All (OFA), the innovative music charity which gives 11-18 year olds with complex lives the opportunity to access the life-changing experience of ensemble music-making, has today announced Susanna Eastburn MBEas its new Chair of Trustees.
Susanna is Chief Executive of Sound and Music, the national organisation for new music in the UK, a post she took up in 2012 following a series of senior roles in the arts, including Director, Music at Arts Council England from 2008-2012. In 2018 she was appointed Member of the Order of the British Empire (MBE) for Services to Music.
Susanna commented: "It is hugely exciting to become Chair of Orchestras for All. The organisation's mission is one that I care deeply about. Creating music with your peers and having the highest quality musical leadership can be life-changing, but too many young people are prevented from accessing this opportunity due to their circumstances. [Founder and Artistic Director Marianna Hay]'s vision in creating Orchestras for All directly addresses that need, and as the organisation heads towards its 10th anniversary it now plays a unique and vital role in the UK. I am greatly looking forward to working with the fantastic team and Board in taking the organisation's work forward into its next chapter."
Following a rigorous selection process, Susanna joins OFA's committed Board of seven trustees. As Chair, Susanna will support the staff team through a process of defining an ambitious new 2020-2025 strategy, due to launch in July 2020 at the start of OFA's 10thanniversary season. Susanna takes over from Interim Chair, Simon Page, who remains on the Board as Treasurer. Simon commented: "On behalf of my fellow Trustees I am delighted to welcome on board Susanna as our new Chair of Trustees.  She joins an enthusiastic and dedicated team at an exciting time as we move forward into the next phase. Her experience and expertise will be invaluable as we continue with our mission to provide access to high quality ensemble music-making to young people with complex lives."
Marianna Hay, OFA's Founder and Artistic Director, commented: "I am thrilled to welcome Susanna as Orchestras for All's new Chair and greatly look forward to working with her and the team as we shape the future strategic direction of the organisation. Her guidance and support will give us the confidence to be ever more ambitious for Orchestras for All and the work we want to do in the future. Her passion and commitment to addressing inequalities of access to musical opportunities shone through during the selection process and I am so proud that she has agreed to support our organisation in this way – it is testament to the hard work and dedication of all those who have helped build Orchestras for All over the first ten years".
Since Marianna founded OFA in 2011 the charity has worked with over 1,000 young people with complex needs, supported over 100 music teachers and community music leaders and created over 30 arrangements of specially-created music for mixed skill level ensembles. OFA is now established as one of the most dynamic young charities in the music education sector with its programmes receiving widespread recognition, including a shortlisting for the Best Musical Initiative Award at the 2017 Music Teacher Awards for Excellence and attracting funding from major organisations including the Esmée Fairbairn Foundation and the Paul Hamlyn Foundation.
More Member Success
Explore the fantastic work of our members