Oldham Music Centre Summer Festival 2016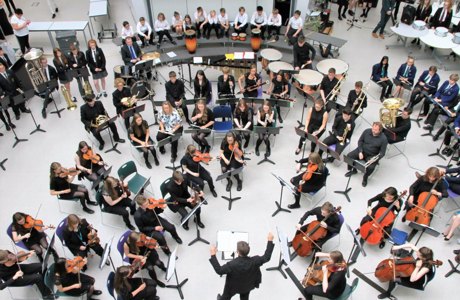 The Oldham Music Centre held its Summer Music Festival at The Blessed John Henry Newman College, Broadway, Chadderton on Sunday July 3rd.
This was the fourth time that the Music Centre has held this spectacular event and for the fourth year in a row it was hosted by Newman College in Chadderton. The Festival provided something for everyone and entire families got involved in this great day out whilst enjoying the enormous range of high quality musical experiences on offer. There were over fifty amazing performances taking place across four venues and whether your musical tastes were more Led Zeppelin than Mozart or more Schubert than Bon Jovi there was something on the programme for everyone. The performances featured the youth groups and adult community groups from the Music Centre directed by Music Service staff. In addition there were also a number of performances given by the talented young people of Newman College under the direction of the school's Head of Music, Michael Edwards.
Gerard Booth, Director of Music for Oldham said: "The Music Centre is very grateful to the staff of Newman College who have all welcomed us into their magnificent school for the day. After the previous three successful festivals, it was an easy decision for us to return to Newman College again this year. We were blessed with a day of sunshine and bumper crowds. The standard of the performances we heard on Sunday was absolutely remarkable and the audience was amazed at the breadth and depth of the talent on display. I am very proud of our young musicians".
More Member Success
Explore the fantastic work of our members