Nottingham Music Service launches its first ever charity song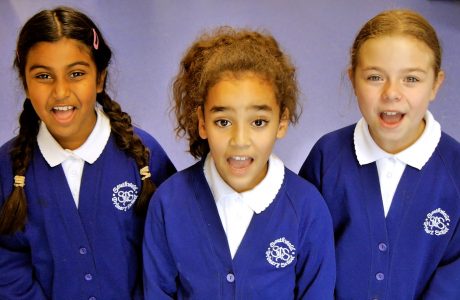 Photo credited to: Swainson Productions
Over 800 children and young people in the city worked together to record the song!
Around 800 children and young people from 29 schools in Nottingham city have collaborated on a charity song, organised by Nottingham Music Service (NMS) and set for release on November 24, 2016.  The launch will be marked by five Nottingham city school choir performances at four separate venues in the city, while a mass singing will take place at 9:30am in many schools simultaneously.
The idea for the song came from a city teacher last December.  It took over eight months of hard work and coordination to write, compose and record it.  Over 300 young people helped to write, design and compose the song, titled If Every Child Could, while 500 singers and 50 instrumentalists were involved in its recording.  Sara King, singing development teacher at NMS, said about her experience, "The children absolutely loved having the chance to record with professional equipment and sound engineers".  Students sent in handwritten notes, and in some cases videos, of their lyrics, that were then compiled by NMS, a charity that works to provide music opportunities in and out of school to young people in Nottingham.
Three of the launch performances on 24 November are open and free to the public.  These will take place at 11:00 and 11:30am at the Nottingham Train Station; at 1:00 and 1:30pm at Intu Victoria Centre, and at 2:00pm in the Market Square
Ian Burton, CEO of Nottingham Music Service, is "asking everyone to tell 5 people about this moving and inspiring song, with the ambition that thousands download this unique message of hope created by Nottingham's young people".
You can support us by:
Downloading the song (available on iTunes, Google Play, Amazon from Nov. 24, 2016) or buying the CDs available at our Christmas concerts (Dec 5 & 13, 2016). All proceeds go towards funding life-changing music projects for Nottingham's children and young people!
Supporting Nottingham Music Service on social media:
Like our Facebook page & follow for notifications about exciting events and competitions (https://www.facebook.com/NottinghamMusicHub/)
Share our page and invite your family and friends to like the page
Comment on our posts, participate in conversations, & share your NMS experiences and photographs
Follow @NottMusicHub on Twitter and ask your friends and family to follow us too!
Reply, retweet & like our tweets
Take part in our charity song campaign and tweet using #ifeverychildcould
Look for the charity song teaser on our webpage: www.nottinghammusichub.org.uk/iecc
More Member Success
Explore the fantastic work of our members