Norfolk Music Service increase numbers of Whole Class Instrumental Teaching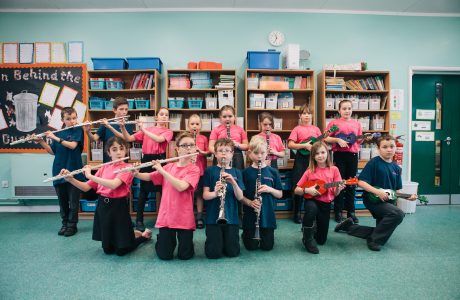 Norfolk Music Service has confirmed delivery of Whole Class Instrumental Teaching to all schools within another Academies Trust in the East this year, meaning over 5,000 pupils in Norfolk are now playing a musical instrument and benefiting from high-quality music lessons led by specialist tutors.
In the past year, Norfolk Music Service (the lead organisation of Norfolk Music Hub) has increased its numbers of Whole Class Instrumental Tuition by 75%, and has forged strong links with many school federations and academies, as well as the Viscount Nelson Education Network, a non-profit Community Interest Company dedicated to improving life chances for children and young people across East Anglia and beyond.
The provision of Whole Class Instrumental Tuition (WCIT) contributes to the Department for Education's (DfE) core roles for Music Education Hubs, which states that every child aged 5-18 has the opportunity to learn to play a musical instrument through whole-class tuition programmes. Norfolk Music Service is delighted that so many schools in Norfolk value music highly within their curriculum and embrace the opportunity of music-making in their school and beyond. Pupils are taught a full range of instruments and musical styles, from samba drumming to world music, ukulele to xylophone. As Whole Class Instrumental Tuition is much more than just playing a musical instrument, children are also taught the basics of musicianship and singing in their lessons, developing a well-rounded musical education from the very start.
More Member Success
Explore the fantastic work of our members