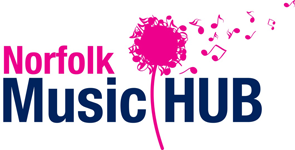 1) Music Service Massed Bands Extravaganza: BBC Ten Pieces Showcase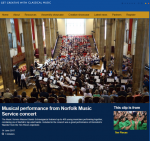 This was a partnership venture to combine some of Norfolk's top wind bands and training bands in concert. The bands represented all came together for one day only, in a workshop led by the band leaders, staff from the Music Service and the Band of the Parachute Regiment. They included players from beginners to professionals. Each of the 'massed band' items was rehearsed and conducted by a different band leader.
The main focus of the day was been to put together Bernstein's Mambo – a specially commissioned arrangement in association with BBC 'Ten Pieces'. As part of the project, teachers and schools were invited to upload their own responses to the repertoire. The performance of Mambo was uploaded onto the BBC website and added to the Creative Response showcase.
Click here to view the performance
2) Double Reeds performance with Orchestra of the Age of Enlightenment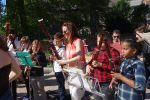 This year, the Orchestra of the Age of Enlightenment have been working with young musicians from Norfolk Centre for Young Musicians, based in Norwich, and St Martha's Primary School in King's Lynn, promoting endangered species instruments. Players from the orchestra have been leading workshops for double reed players on Handel's Royal Fireworks Music. This exciting project culminated with a special open-air performance in Norwich city centre on Saturday 10th June, featuring 7 budding oboists and 10 young bassoonists performing works by Handel and a specially written piece by OAE composer Anthony Bailey, alongside professional musicians.
3) Ninth year of success for Music Service teacher in Music For Youth National Festival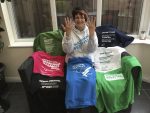 Jessica Berners, the Lead Teacher of Whole Class Instrumental Teaching for Norfolk Music Service, is celebrating her ninth consecutive year of success in the Music For Youth festivals. Since 2009 she has led groups of young people from the King's Lynn area at the Regional Festivals and, by invitation, to the stage of the National Festival in Birmingham. In total she has supported approximately 540 pupils in their performances. She has collected a t-shirt from each annual event and is looking forward to expanding her collection once again this year when performing with two groups from St Martha's Catholic Primary School at Symphony Hall, Birmingham, in July.
4) Make Music Day success in Norwich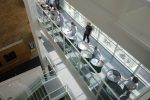 On Wednesday 21 June, around 100 musicians in Norwich aged between 8 – 80 took part in a nationwide celebration of music for Make Music Day UK 2017.  There were three stages across the city; at Norfolk & Norwich Hospital, Millennium Library in The Forum, and Chapelfield Gardens bandstand, each hosting a wide-range of musical styles throughout the day, from classical piano, steel pans to capoeira rhythms. Young musicians from Norwich Lower School and Access To Music took part as well as community groups from New Routes and professional soloists, in what was the second largest event in the UK for Make Music Day!
More Member Success
Explore the fantastic work of our members