Newham's Community Opera Wins National Award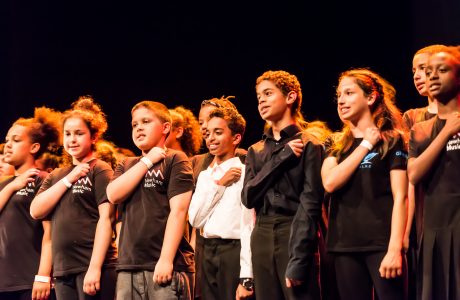 Newham's Community Opera – Full Circle has received the Outstanding Musical Initiative Award at the prestigious Music Teacher Awards for Excellence. 
The modern-day opera took its inspiration from the life of Jonathan Lofulo, a Newham resident and former child refugee who spent time in prison before earning a first-class degree in Education from the University of East London. 
On receiving the award, CEO of Newham Music, John Bergin said: 
"We are delighted that Newham's Community Opera has been recognised by this prestigious award. The dedicated efforts of so many has produced an inspirational and unique opera for the whole community. Full Circle has connected hundreds of people from different backgrounds across Newham through an authentic new musical work, and will continue to do so into the future." 
Anthony Wilson, Headteacher of Lister community school said: 
"Receiving the Outstanding Musical Initiative award is such an honour. We have been able to use music as a tool to bridge the gap between people and really emphasise partnership, community and being ambitious and bold for our students. Winning this award will help us to ensure the legacy of Full Circle, cementing the themes of togetherness and second-chances into our community." 
Full Circle came about as the result of a long-term collaboration between Newham Music and Lister Community School, and from the outset the goal was to bring together the rich diversity of the local community to tell a powerful story that would resonate with audiences from every age and background. More than 300 children and young people, working alongside community members from 10 Newham schools including Lister, Sarah Bonnell and Rokeby, helped devise, compose and finally perform Full Circle. 
Full Circle premiered at Lister Community School before going on to headline at the Newham Music's Annual Festival of Youth at the Theatre Royal Stratford East. It was also performed at the Tower of London as part of the Water City Music Festival. The next phase of the project started in 2019 and has already seen development workshops as a part of Newham Word Festival. Full Circle will feature at the Southbank Centre Refugee Week, and Music for Youth Proms in coming months. 
Each year the Music Teacher Awards for Excellence celebrates outstanding achievement in music and arts education in fourteen categories including Outstanding Musical Initiative. The national event showcases the very best teaching methods and resources used to inspire creativity, passion and performance in children, young people and their local communities. Other winners this year included Open Orchestras, Charanga, Liverpool Philharmonic, and Hope for Grenfell Memorial Gala. 
To find out more about Newham Music visit www.newham-music.org.uk. 
More Member Success
Explore the fantastic work of our members