Newham's Community Opera Goes to Town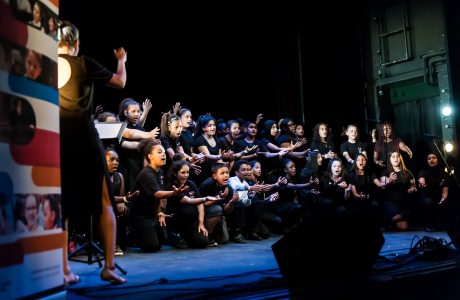 Newham's award-winning community opera, Full Circle, is gearing up for performances in two of London's most famous venues.
First up is a performance at the Royal Festival Hall on 23 June as a part of Southbank Centre's Refugee Week activities. Newham Music and Counterpoints Arts ran a series of spoken word workshops in local schools exploring themes of refugee journeys, gang violence, and place-making to create new narrations as a part of the Newham Word Festival. These new additions will premiere at a free Refugee Week performance at the Southbank Centre, featuring over 200 Newham children and young people. Newham Music and Lister Community School have also been selected to bring highlights of Full Circle to the Royal Albert Hall in November as part of the Music for Youth Proms. The massed ensemble performance will feature over 700 Newham children and young people singing, playing in the orchestra and band, and performing spoken word narrations which were all created throughout the life of the project. Tickets for this exciting high-profile event go on sale in May.
Amy Haynes, Head of Faculty for Music and Drama at Lister Community School said: "The success and impact of the community opera project really shows that our students are capable of so much more than people sometimes expect. I am extremely proud of the young people who have worked so hard throughout the project and excited that they will get to take part in the reward of performing in these amazing venues."
Newham Music Projects and Events Manager Nicola Williams had this to say: "It is fantastic that we've been able to continue to grow this project and reach even more young people through so many different outlets. It's exciting that we've had the chance to help create a piece of art that is relevant to today's communities, and even more so that the young people really took ownership of the story and messaging."
Full Circle was inspired by the life story of a Newham resident who arrived as a refugee and got involved in gang activity before turning his life around to give back to his community. It has been performed at the Tower of London Water City Music Festival, Lister Community School, and Newham Music's Festival of Youth at Theatre Royal Stratford East. The project recently received the Music Teacher Award for Excellence in the Outstanding Musical Initiative Category.
To find out more about Newham Music visit www.newham-music.org.uk.
More Member Success
Explore the fantastic work of our members