Lucy Hale appointed as inaugural Young Composer-in-Residence for Orchestras for All 2019-2020 season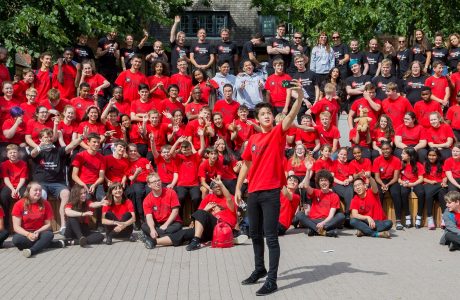 Orchestras for All is delighted to announce Lucy Hale has been appointed its inaugural Young Composer-in-Residence for the 2019-2020 season. Hale will work with the 100 young members of the National Orchestra for All (NOFA) to create a brand new piece of music to be premièred at the spectacular season finale concert on 9 April 2020 at LSO St Luke's in London.
NOFA – the flagship ensemble of youth music charity Orchestras for All – is a unique orchestra made up of 100 young musicians aged 11-18 from across all four nations of the UK. It is the only non- auditioned, free to participate national youth orchestra of its kind. Young musicians are not auditioned or charged fees, but instead are nominated by music teachers, social workers and partner charities for showing dedication and commitment to music in the face of challenging circumstances. Many live with disabilities or chronic health conditions, have caring responsibilities, face socio- economic deprivation or rural isolation, or come from areas where they simply wouldn't be able to afford to participate in music without NOFA. Performing, learning and playing music together has been proven by leading academics to have a huge impact on young people, developing social skills, team work and confidence. Orchestras for All aims to ensure all young people aged 11-18 can access these life-changing opportunities.
The new piece will form a central part of this unique youth orchestra's 2019-2020 season which is entitled My Roots, Our Routes, exploring music that has been inspired and influenced by human migrations and journeys. The piece will take its inspiration from the idea of The Silk Road by Land and Sea, exploring aspects of the music of the countries along the Silk Road in two movements, one representing the land route, the other representing the sea route. Hale will lead NOFA through two days of collaborative composition workshops in Liverpool on 23-24 November 2019, supported by NOFA's team of experienced orchestral tutors, before fully orchestrating the piece for rehearsals and performance in London on 7-9 April 2020.
Originally from London, Hale attended the Royal College of Music Junior Department as a principal study composer between the ages of sixteen and eighteen. She is currently nearing the end of her studies for a Master of Music in Composition at the Royal Northern College of Music, where she completed her Bachelor's degree with honours in 2017. She is also a trainee Associate Musician with Drake Music, working on the delivery of composition workshops with young disabled people in Liverpool, and was the inaugural Young Composer-in-Association with BSO Resound, the Bournemouth Symphony Orchestra's disabled-led ensemble.
Hale says: "Music has had a huge positive impact on my life, and as a disabled person, it has not always been easy for me to access. I believe passionately in OFA's mission to bring high quality musical experiences to young people in challenging circumstances. I'm looking forward to exploring a fascinating subject and crafting a new piece with and for a diverse group of committed and enthusiastic young people and, I hope, playing a small part in showing those young people that music is for everyone."
Steven Smith, NOFA's Programme Manager, commented: "We're over the moon to be working with Lucy this year. We received an amazing selection of entries for our Call for Proposals earlier this year, but Lucy's stood out for her plans for engaging the young musicians in her creative process. We're looking forward to spending two days with her at our upcoming Winter Sessions, and showcasing her new work – co-created by our young musicians – at our season finale in April."
More Member Success
Explore the fantastic work of our members