Kingston Music Service strikes the right note with jazz award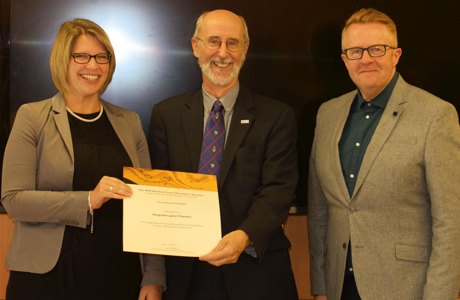 Kingston Music Service has received a Will Michael Jazz Education Award for its outstanding commitment to jazz provision in the borough.
The service is among a handful of organisations to receive a First-Entry Diploma, for its array of educational activities that increase participation and promote enjoyment of the music genre.
The Will Michael Jazz Education Awards, awarded annually by Jazz UK in association with the Music Education Council's Music Education Awards' Scheme, are the only means of giving nationwide recognition to the achievements of jazz education practitioners in the UK.
Accepting the diploma at a ceremony in Doncaster, Dawn Wren, Acting Head of Music at Kingston Music Service, said:
"We are so thrilled to receive this award on behalf of Kingston's thriving jazz community.
"In partnership with neighbouring music service, Richmond Music Trust, and the National Youth Jazz Orchestra, we have worked hard at developing students' creative and improvisational skills at an early stage, and establishing clear progression routes for advancing musicians.
"Key to our success has been improved access for those not normally exposed to jazz, as well as incorporating Continuous Professional Development for jazz leaders and classroom music teachers into our activities.
"We are really proud of what's been achieved so far and excited by what's still to come. Our future plans include termly concerts for our jazz bands, and continuing our work with the National Youth Jazz Orchestra to implement a creative day that brings primary school musicians together to introduce them to jazz."
The diploma is named in honour of Will Michael who until his death in 2008 was a hugely respected jazz educator on the national stage and joint architect of this scheme.
Cllr Andrea Craig, Cabinet Member for Growth and Identity, with responsibility for Heritage, Arts and Leisure at Kingston Council, said:
"This national recognition for Kingston's Music Service is thoroughly deserved. The service aims to enrich the lives of all young people within the Royal Borough of Kingston upon Thames by providing opportunities for them to become actively involved in a wide variety of high quality music activities.
"There is a wealth of talent within the borough, and helping our young people to succeed is a key priority for the council."
Link to Photos: Kingston Music Service receives Will Michael Jazz Education Award
More Member Success
Explore the fantastic work of our members