Inspirational Young Choir for New Lord Mayor of Portsmouth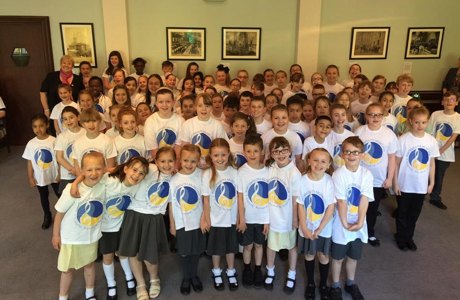 On Tuesday 17 May the city of Portsmouth said goodbye to one Lord Mayor and welcomed another, and Portsmouth Music Hub was there to be part of the prestigious Mayor Making Ceremony which took place at Portsmouth's Guildhall.
In front of dignitaries, council leaders and the new Lord Mayor of Portsmouth, Councillor David Fuller, the Music Hub brought together a hundred children from six local primary schools to sing My Time , written by Hub composer Iain Gilmore.
It was a moving experience for everyone as the song describes the apprehension, the exhilaration and the sense of achievement which comes from taking to the stage and performing successfully; and as the new Lord Mayor began his first day of official duties it seemed an appropriate song for the occasion, performed by enthusiastic young voices wishing him well.
Sue Beckett, CEO of Portsmouth Music Hub, who conducted the young choir, said: "The children were very excited to be part of the ceremony, and they gave an unforgettable performance of a beautiful song which captured everyone's heart and imagination. We were delighted to be there, because children and young people are so important to our city, they represent the future, and it was fitting to have them perform for the new Lord Mayor."
More Member Success
Explore the fantastic work of our members