Innovative & Interactive A-level workshops from Berkshire Music Hub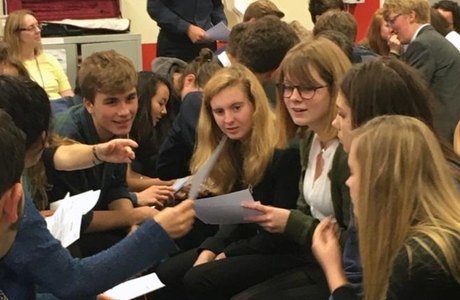 On Monday 19 th October 2015, drawing on the strength of over 30 professional players, teachers and workshop leaders, Berkshire Music Hub was overtaken by more than 60 A-level music students taking part in a day devoted to set work analysis – A Level Unwrapped.
As part of the 'Learn It Live' series, workshop leaders, tasked with exploring a performer's eye view of the music, delved into the music of Brahms' Piano Quintet in F minor, Haydn's String Quartet 'The Joke', Miles Davis' Quintet 'Four' and Desmond Dekker and the Aces with passion and enthusiasm!
The performers had a great time sharing their love of music making and sessions included plenty of opportunities for on the spot demonstrating, discussion and much learning and laughter. Students praised the musicians for being "enthusiastic, talented, versatile, and virtuosic" and loved the "friendly, vibrant and infectious buzz" created throughout the day.
Building on its partnership with Reading University, the A-Level Unwrapped sessions also created a valuable opportunity for workshop training with their 10 PGCE music students. Working collaboratively, which is at the heart of 'Learn It Live' , means that everyone is able to "share and compare knowledge…bounce ideas of each other… and easily imitate each other on a range of instruments".
The workshops focussed heavily on musical style, instrumental techniques, rhythmic and melodic development and were carefully crafted so that students could use the day as a springboard for further study back at school. School teachers praised the workshops for "activating the different learning styles of the students" and the "high quality of the live performances".  Importantly, the event ensured that staff and students from even the smallest schools and classes could experience and learn together where otherwise set work analysis could be a lonely experience.
In 2012 Dr James Garnett from the IOE Reading, praised Berkshire's  'Learn It Live' initiative as being "innovative, engaging and beautifully executed" and it has since gone from strength to strength reaching over 200 students from within Berkshire and beyond. Events in the New Year include two 'East meets West' composition & performance workshops for GCSE and 2016/17 plans are in the pipeline as the Hub receives more from its partner schools to "do more of them, they are brilliant!"
For further information about 'Learn It Live' and the Academy Maestros please visit www.berkshiremaestros.org.uk/academy.html
More Member Success
Explore the fantastic work of our members