Infinity Orchestra launches for young Surrey musicians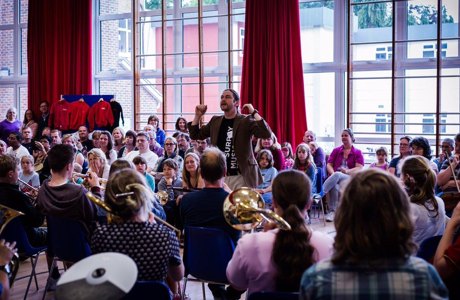 On Sunday 30 June a new project for young musicians known as the 'Infinity Orchestra' was launched with a one day workshop event featuring musicians from Surrey Arts and the BBC.
The Infinity Orchestra is a new ensemble which is open to young Surrey-based musicians aged 11 and over. What makes it special is that it is open to all young people, whatever their abilities and needs, and therefore brings together the ground breaking work of Surrey Arts' special educational needs orchestra (the UP! Orchestra) with the outstanding talents the Surrey Arts' ensembles.
Infinity Orchestra provided a fully inclusive platform for musicians from all backgrounds to come together, performing valuable and high quality music based on their own musical ideas.
The one day workshop took place in partnership with the BBC Ten Pieces project. This project has featured a selection of classical pieces of music which have been celebrated in films and events including the BBC Proms and have been used as a teaching resource in schools all over the country. The BBC provided a superb team of their finest musicians to work alongside the children and provide true inspiration.
During the workshop Musical Facilitator, Alex Bondonno (Surrey Arts) led the young musicians through a selection of music from the BBC Ten Pieces. The day began with performers using their own bodies as percussion instruments before working at a superb Latin rhythm in Leonard Bernstein's Mambo! The young musicians learned how to improvise confidently and created their own responses to the music around them as they looked at other music from Bizet, Vaughan Williams, Bach and Verdi, changing the music into their own compositions.
Alex said 'It was marvellous to bring together young musicians who played a variety of different music and challenging them to perform in a new way.'
The day culminated in a performance to parents and friends which showcased the amazing music that the young musicians had created. With only a day long workshop the Infinity Orchestra had put together no less than 8 pieces to perform to their packed audience.
We hope to see much more from the Infinity Orchestra in the future! The day was delivered by musicians from Surrey Arts, Rhythmix, Hand on Hearts Arts, The Beat Goes On and the BBC Symphony Orchestra and the BBC Singers.
More Member Success
Explore the fantastic work of our members