Hampshire and Germany in harmony to celebrate peace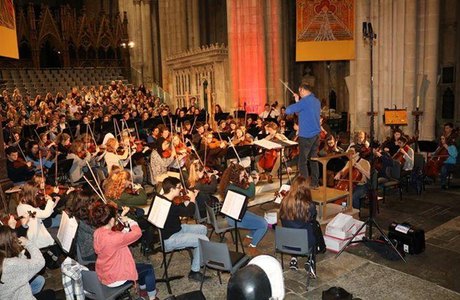 A special concert celebrating peace and commemorating the 100th anniversary of World War I brought together young musicians from Hampshire and Giessen in Germany (Winchester's twin town).
Organised by Hampshire County Council's Music Service, and hosted by the County Council's Chairman, Councillor Jonathan Glen, the performance took place in Winchester Cathedral.
Featuring talented musicians from the Hampshire County Youth Orchestra and school choirs, together with the Giessen Liebigschule Choir from Germany, the highlight of the evening was the world premiere performance of 'The Lost Wand', by Francis Pott.
'The Lost Wand'; had been composed especially for the Chairman's Concert and had been commissioned by the County Council, Arts Council England and The Friends of the Hampshire County Youth Orchestra.
Comprising songs sung in both English and German, the performance portrayed, through music, issues of war, peace and humanity – issues that are so relevant today. Also on the programme was music by Britten, Brahms, Mauersberger, Shostakovich, Mozart and Beethoven.
The performance was extremely poignant and showed how far the world has come. Just 60 years ago no one would have thought a shared performance from homestays in England and Germany would be possible. Video clips of the Dresden bombings and the fall of the Berlin Wall superimposed by the children of the day celebrating peace through music produced an especially emotional response from many in the audience. The finale of the European Anthem, Beethoven's 'Ode to Joy', brought the event to a hopeful and inspiring climax with strong friendships cemented forever.
The challenging and wide-ranging musical score was performed by around 300 young musicians and singers from the Hampshire County Youth Orchestra, the Giessen Choir from Germany and a massed choir formed with young people from Henry Beaufort School, King's School, Perins School, Wyvern School and Barton Peveril College.
More Member Success
Explore the fantastic work of our members