Grammy Award winning Kendrick Lamar surprises young musicians at Brighter Sound workshop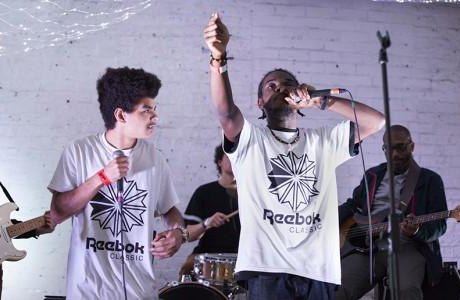 A group of 46 young musicians were left speechless on 11 March when seven times Grammy Award winner Kendrick Lamar walked into a Brighter Sound hip hop workshop and joined them in a freestyle MC jam…
We'd put together the special workshop after we were approached by creative agency four23 to deliver the activity, who were curating the events surrounding Lamar's visit to Manchester for Reebok (for whom Lamar is an ambassador), and were keen to connect the artist to local young musicians.
The event took place at The Wonder Inn in Manchester's Northern Quarter, where we had assembled over forty 15 to 25 year-old members of the city's young emerging hip hop talent – including MCs, producers, DJs and musicians – to develop their skills in writing and performance.
The appearance of the U.S. artist was a complete surprise to most, having been kept secret from pretty much everyone in the city…
When asked what it meant to have Kendrick Lamar at the workshop, participant Jerrell aka Bxrry said: "For me Friday was more than just a workshop – it was a spiritual thing. As for the cypher with Kendrick, it's something that was on my bucket list and something as an artist I will cherish forever. Thank you Brighter Sound for one of the best workshops I've ever been to."
Lamar recently won five Grammys at the February Awards, including one for best rap album for his release To Pimp A Butterfly which came out in 2015 to critical acclaim.
Brighter Sound Director, Debra King said "Obviously for Reebok to make this happen is incredible – we were able to offer such an amazing experience for the participants, but for Kendrick Lamar to take the time out to come down is beyond words. We could see how much it meant to the group – it's enough to inspire young people for a lifetime, and it'll be remembered by every young person here."
Read more on the Brighter Sound website
More Member Success
Explore the fantastic work of our members