Folkestone Music Lab to Launch for 12-19 year olds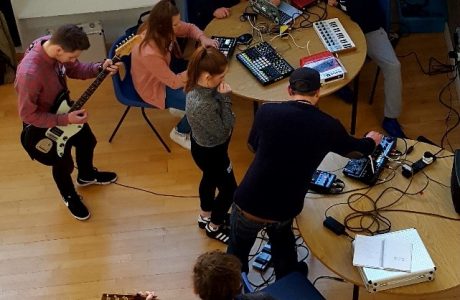 A new creative music centre for young people is launching in April with the aim of bringing young people together to explore, create and produce new music. Folkestone Music Lab, a partnership between Kent Music, the Creative Foundation and Folkestone Academy, will run workshops every Saturday from 10.30am to 1pm from the Glassworks at Folkestone Academy, and will be led by community music professionals with industry experience. The Lab will give students with any level of ability the chance to play and learn as part of a band or group, in whatever musical styles they decide, with the opportunity to record their music using professional equipment, and guided by experienced tutors.
Karen Self, Head of Partnerships and Development at Kent Music, said of the launch: 'We have been piloting the Lab with a series of free workshops since January and have been really pleased with the level of interest. We have seen students from all Folkestone Secondary Schools sharing and creating music from a variety of different styles. We're open to all ideas, with the young musicians leading the direction of the sessions, and supported by six expert tutors in guitar, keyboard, vocal skills, songwriting, drums and music production. The Creative Foundation have offered the Quarterhouse for future performances from the Lab and we hope to schedule some gigs soon.'
The tutors involved in the Lab include Robin File, guitarist for Audioweb and Badly Drawn Boy, vocalist Sophie Radley, and singer-songwriter and rapper/MC Oliver Seager.
The Lab has been over a year in the making, with involvement from design consultants We Are Huddle contributing consultancy on community need and development, and using funding from Kent Music's Music Education Hub grant from the Arts Council.
Pilot sessions are running on Saturdays from 25th February to 25th March 10.30am-1pm and are free to attend. For the summer term there will be a small charge of £2-3 per session for each participant to cover running costs, with subsidies available. All queries should be addressed to Karen Self: kself@kent-music.com
More Member Success
Read about the fantastic music education work of our members.