Disabled musicians master new ways of performing with instruments from OpenUp Music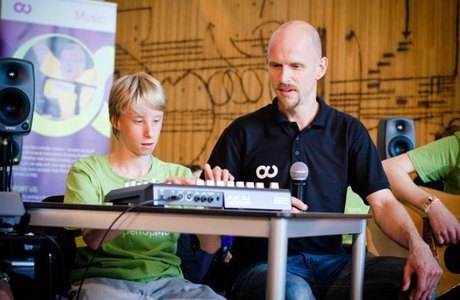 We were delighted to see our members, OpenUp Music featured in The Independent this week.
Mastering a musical instrument is never easy for anyone. That, however, hasn't stopped the UK's first regional disabled-led orchestra from breaking new boundaries in what can be achieved by young disabled people.
The South-West Open Youth Orchestra, the UK's only disabled-led regional youth orchestra, works in partnership with musicians from the internationally renowned British Paraorchestra – and its latest work has been made possible by collaboration with, and support from, the University of the West of England, Bristol (UWE Bristol).
The orchestra's instruments have been developed and adapted for them to use by OpenUp Music, an organisation that specialises in making orchestras, instruments and repertoire accessible to young disabled musicians. Some of these instruments are played just by flickers of the eyes. Others convert facial movements (such as moving a dot on the musician's forehead or raising an eyebrow) into expressive musical control.
"There are some incredible innovations out there which translate minute physical actions into different notes," says UWE Bristol's Dr Liz Lane, Senior Lecturer in Music Technology – Composition and Performance. "OpenUp Music has harnessed these to replace traditional orchestral instruments and produce bespoke sounds specifically for the performance."
The orchestra is currently preparing to perform a new version of "Silver Rose", composed by Dr Lane and featuring poems by Bristol war poet Isaac Rosenberg.
The new version of "Silver Rose" has been made possible by a UWE Faculty of Environment and Technology Public Engagement and Outreach Award, which has enabled Dr Lane's research into new music and repertoire for the orchestra.
"The whole event is also an opportunity for the university's music technology students to apply their learning and gain valuable experience as they do the live sound for the concert," says Dr Lane.
This latest performance, organised by the UWE Centre for Performing Arts, will take place at Bristol Cathedral in April where the orchestra will be joined by the UWE Singers, Lydbrook Band and narrator Barry Farrimond, conducted by Ian Holmes.
The evening's entertainment will include works by Rutter, Wagner and Saint-Saëns. But the South-West Open Youth Orchestra will be applying their skills to playing "Silver Rose", a moving 12-minute work commissioned by Bristol 2014 with funding from Arts Council England.
It was first performed to commemorate the 100th anniversary of the First World War, in November 2014 at Bristol Museum and Art Gallery, when Robert Hardy CBE read the poems of Isaac Rosenberg which are incorporated into the music.
"It will definitely be a different and even bigger performance than the original," says Dr Lane of the upcoming concert. "As well as having 120 extra singers, we will effectively be creating a new soundscape, being performed in the vast spaces of Bristol Cathedral."
More Member Success
Explore the fantastic work of our members