Create a Buzz! winners announced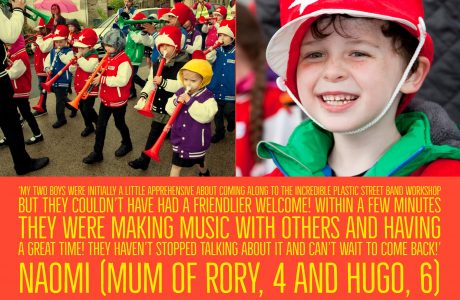 Brass Bands England (BBE) and Warwick Music Group's Create a Buzz! competition has come to an end and the 'Pennthorpe pBuzzers', from Pennthorpe School in West Sussex (pictured below), have come out as the victors.
'Create a Buzz!'  Was designed by BBE and Warwick Music to encourage the start-up of more beginner brass groups by using the pBuzz.
The brightly coloured pBuzz has been specially designed for mini musicians' little hands.  It is pitched between the pTrumpet and pBone, making it easy and fun to hit the right note every time!  Retailing at under £20, the pBuzz is an affordable and playful product that can help develop a child's sensory and fine motor skills, encourage self-expression, stimulate imagination and creativity, build confidence and nurture their natural music talents.
Schools, Music Education Hubs and youth music organisations applied to the program and 5 lucky applicants were shortlisted to take part.  Each finalist received a class set of pBuzzes to keep (free of charge) to work with over a six month period, using the free resources available on the pBuzz website.  Each finalist was then asked to submit a five minute video of their musical journey, featuring a performance of Jonathan Bates' specially commissioned piece, 'Create a Buzz' (*Disclaimer – do not listen to this piece if you do not want it stuck in your head for days!).
Jonathan sat on the judging panel with staff from BBE and Warwick.  He said,
'After viewing all of the entries in the PBuzz competition, my decision would be that the entry by Pennthorpe School was my favourite.  I feel the outreach in the community and wide range of performance opportunities, coupled with inventive filming made this one stand out, but it was so refreshing to see such enthusiasm and dedication across all the entries, with such a wide range of different approaches taken and so many young people engaged!'
The winners will receive a set of 10X pCornets and 10X pBones to support the next step of their musical development, and an invite to perform on the main stage at the 2019 National Youth Brass Band Championships of Great Britain.  Hopefully this will be the first step in creating a school brass band at Pennthorpe, creating a new musical legacy for the school and the area.
BBE's Education and Development Co-ordinator, Sophie Anderson said,
'I wasn't part of the judging panel for Create a Buzz! but I saw all the video submissions and they were all fantastic.  It was wonderful to see all the children getting involved and having such a lot of fun.  I hope it will inspire many of them to take up a brass instrument and instil a lifelong passion for music making.  The Create a Buzz! pilot has been absolutely brilliant and BBE hopes to be able to run the program in partnership with Warwick Music again next year.'
Pennthorpe had some stiff competition from other finalists: The Incredible Plastic Street Band (Oldham & pictured above), Shirley Warren Primary School (Southampton), Trafford Music Service (Trafford) and St Ignatius College (Enfield).
Warwick Music's Development Manager, Darren Lea will be visiting all the finalists in the coming weeks to follow up on the project and congratulate all the children and staff that took part.
More Member Success
Explore the fantastic work of our members