Britain's Got Talent meets 1,700 Portsmouth children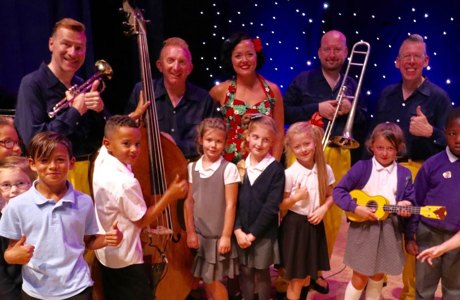 If it's good enough for Her Majesty the Queen, then a performance from the swing band Jive Aces was definitely good enough for 1700 children from schools from across Portsmouth.
Jive Aces came to national attention in 2012 after reaching the semi-finals of Britain's Got Talent. Simon Cowell called them "absolutely brilliant", and after the ITV show Jive Aces went on to perform for the Queen and the Duke of Edinburgh, and took part in the Jubilee Celebrations in Hyde Park.
It's an impressive track record and on Tuesday 20th September the band took to the stage at the Guildhall in Portsmouth to entertain hundreds of local children aged between 5 to 14 years.
Jive Aces is famous for its unique style of performance, and the children screamed with delight as they watched a piano being played with feet and a double bass being twirled and thrown into the air. The show included some famous songs, including the classic Morecombe and Wise hit 'Bring Me Sunshine', and the children sang the Disney favourites 'Bare Necessities', and with accompanying monkey noises, 'I Wanna Be Like You'.
Sam Brydon, a teacher from Milton Park Primary School, said: "The children had a fantastic time at the Jives Aces Concert. They were dancing in the aisles, and for some of the children it was their first opportunity to see a live band."
The concert was part of Portsmouth Music Hub's campaign 'Live Music Portsmouth'. The campaign is designed to give the City's children a range of musical and cultural opportunities.
Sue Beckett, CEO of Portsmouth Music Hub, said: "It's been a stunning concert and a fantastic way to engage so many children. Seeing the Guildhall packed with young people loving the rhythms and vibes of such a fantastic band was truly inspiring. We hope that concerts like this will inspire children to play instruments and develop a love of music which will last a lifetime."
More Member Success
Explore the fantastic work of our members