Babies and Toddlers engage in a Unique Opera for Early Years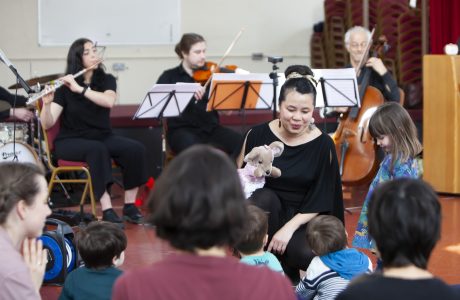 Over 50 Mini Musicians took part in a unique interactive live performance of Sizzle The Little Dragon on Saturday 27th March. Babies, toddlers, pre-schoolers and their parents and carers engaged in a morning of workshops and then participated in a concert for their family and friends at the Community Hub in Walthamstow Village.
Led by Early Years music specialist and opera singer Maya Sapone, the children learned songs that told the story of a little dragon who gets into trouble for uncontrollably breathing fire. The operatic project was created and directed by Maya especially for the day using classical and folk music, rhymes, songs and actions that appealed to and engaged the young audience.
Attending with her 3 year old son Farris, mum Shazia Syed said: "We had so much fun today! Farris absolutely loved the music and it was great for us to join in with the words and actions together."
Maya Sapone said: "Music brings us happiness and makes us feel good whatever our age. From birth, children and their parents can use music as a way to bond, engage and interact."
To find out more about Mini Musician classes held on Mondays, Tuesday and Fridays at the Community Hub go to www.walthamforest.gov.uk/music-service  or email Music.Service@walthamforest.gov.uk.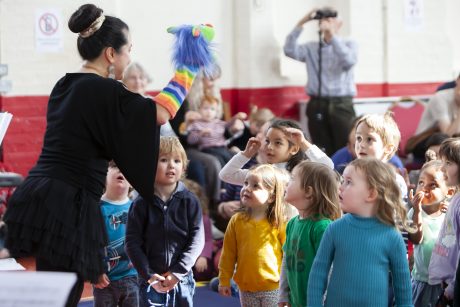 Photos: Ludovic des Cognets  www.ldescognets.com
 About Waltham Forest Music Service
Waltham Forest Music Service offers a wide variety of opportunities for young people to play a musical instrument – whether they're just starting out or looking to progress their skills.
The service runs a Music School at the end of the school day for music group, ensemble and choir rehearsals as well as 1-2-1 instrumental and vocal tuition.
Any young person wanting to get involved with the Music Service can do so either by speaking to the Music Co-ordinator in their school or by contacting the Music Service:
www.walthamforest.gov.uk/music-service  or email Music.Service@walthamforest.gov.uk
More Member Success
Explore the fantastic work of our members