Award winning coverage of Bristol Plays Music's 'New Ambition' programme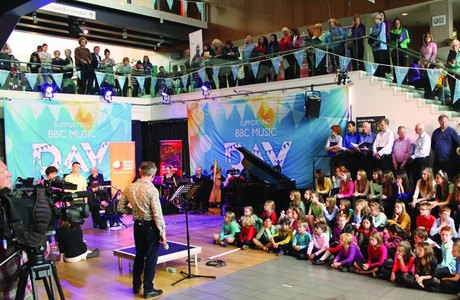 BBC & Radio Bristol have just won 2 awards for their coverage of BBC Music Day, Bristol which took place at Colston Hall and was all about Bristol Plays Music's 'New Ambition' programme.
Judges comments were:
DIVERSITY
GOLD– Radio Bristol
This would have been stand out radio in any category. A powerful story that used all the tools of the audio craft to engage with listeners. A stunning listen.
DIGITAL INNOVATION
SILVER – BBC Bristol
A brilliant idea and a really good cause: a Paraorchestra featuring the stories of musicians with disabilities for BBC Music Day. With very comprehensive use of digital platforms; this was an excellent issue on which to make use of digital innovation. It was digital from the get-go. It was also newsworthy. Good films well shot and edited – with engaging characters. This felt big – locally, regionally and nationally.
The entry also demonstrated fantastically high production values and is a gold standard entry – beaten only by an entry with the kind of massive wow factor that only comes along once in a while. We were captivated by the stories and the gorgeous films. The station was also clearly trying to reach new audiences and was one of few entries to include what the audience thought of it all.
Very well-planned and orchestrated if you'll forgive the pun!
Read more on the awards here
More Member Success
Explore the fantastic work of our members