600 of Sutton's Youngest musicians raise the roof on Fairfield Halls!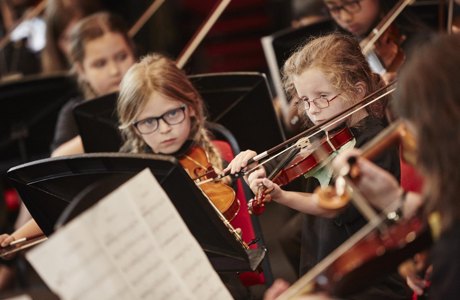 On Thursday 16 June, Sutton Music Service brought together 600 of Sutton's youngest musicians at Fairfield Halls, Croydon for their KS2 Instrumental Festival. This annual celebration of the London Borough of Sutton's highly successful First Access programme, saw children from 17 different primary schools that participate in Whole Class Ensemble Tuition, perform to a sell out crowd of over 1200. This year was particularly poignant, as this was one of the last concerts to take place at Fairfield Halls before it closes in a few weeks.
The event featured performances on string, woodwind and brass instruments, as well as Indian Dhol and Brazilian Samba, led by Sutton Music Hub partner organisation Inspire Works. The younger musicians were also entertained and inspired by older students from Sutton Youth Brass Band. The evening was brought to a fitting climax, as all the performers came together to raise the roof with a vocal finale of True Colours by Cyndi Lauper.
Recently appointed Mayor of Sutton Cllr Richard Clifton commented "It was a really impressive, remarkable event. I do not think I have ever seen so many trumpets on display at a single concert! The standard was impressive, the enthusiasm awe inspiring, and the organisation brilliant".
More Member Success
Explore the fantastic work of our members