27 Nottingham City Schools receive award for commitment to music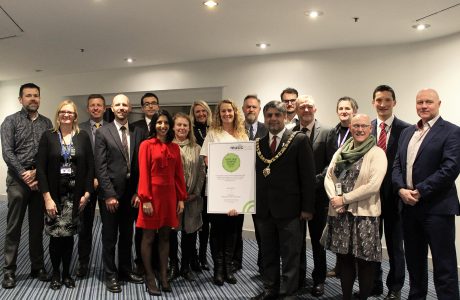 Nottingham City Schools were lauded for their commitment and collaboration with Nottingham's music hub to provide their pupils with life-changing music opportunities.
Nottingham Music Service (NMS), a registered charity that provides music programmes for young people in the city, introduced the 'Music Hub Champion' award to recognise schools that have gone the extra mile to promote inclusive music education and support their pupils to benefit from the many music making opportunities provided by NMS.  These schools have extraordinary staff members that support, encourage and inspire their children to continue learning their instruments and participate in out-of-school groups and events.
The awards were announced at NMS's Christmas in the City event on Dec 12, 2018 at the Royal Concert Hall in front of an audience of 1,800+ people.  Lord Mayor of Nottingham Councillor Liaqat Ali presented a certificate to representatives of the Champion schools.
NMS Business, Operations & Strategy Manager Michael Aspinall says: "We wanted to publicly acknowledge those school that are going the extra mile to provide music educational opportunities for their pupils. We are proud of our work with local city schools and feel that it is important to recognise those schools that are helping students to engage with all aspects of the service."
The Music Hub Champion Schools for 2018 – 19 are:
Bluecoat (Aspley) Academy
Bluecoat (Wollaton) Academy
Brocklewood Primary and Nursery School
Crabtree Farm Primary School
Dovecote Primary and Nursery School
Firbeck Academy
Forest Fields Primary and Nursery School
Greenfields Community School
Haydn Primary School
Heathfield Primary and Nursery School
Hempshill Hall Primary School
Melbury Primary School
Mellers Primary School
Middleton Primary and Nursery School
Nottingham Academy Primary
Nottingham College
Nottingham Girls' Academy
Oak Field School and Specialist Sports College
Old Basford School
Portland Spencer Academy
Robin Hood Primary School
Rosslyn Park Primary and Nursery School
St Ann's Well Academy
The Nottingham Emmanuel School
The Trinity Catholic School A Voluntary Academy
Whitegate Primary and Nursery School
William Booth Primary and Nursery School

More Member Success
Explore the fantastic work of our members