The Songs For EVERY Series – A Whole School Singing Solution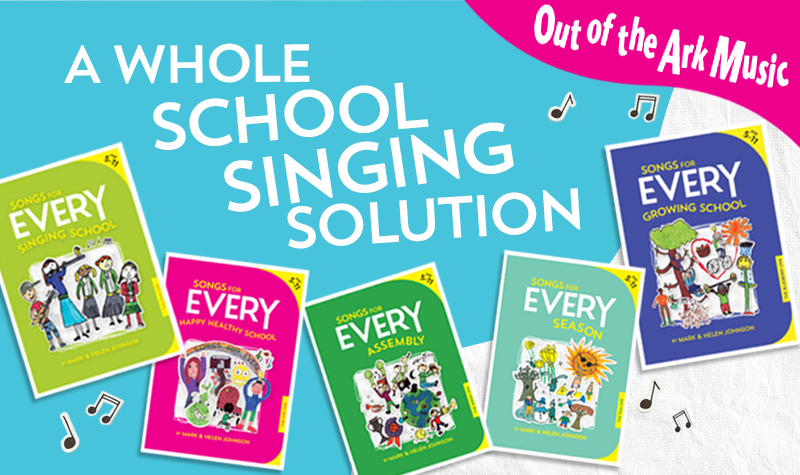 This newly updated series has provided enjoyment and inspiration for many years. Tried and tested songs continue to have a hugely positive impact upon countless schools and children everywhere, and our belief in their values and potential has led us to produce this refreshed and updated version of the series that gives you a whole lot more.
Knowing how much potential there is in these fabulous songs, we've added a feast of original and new exciting music activities for you to use alongside them in the new activity songbook. We want to help you to grab hold of EVERY musical possibility contained within each and EVERY song and enjoy the learning opportunities they bring. Additionally, our imaginative ideas pages will open up the thematic content of the songs by linking with the wider curriculum and beyond. Our aim is to provide inroads towards creative music education using material that we know will equip, give confidence and inspire everyone.
10 inspiration titles to choose from:
Songs for EVERY Assembly 
Songs for EVERY Body
Songs for EVERY Christmas 
Songs for EVERY Day
Songs for EVERY Easter 
Songs for EVERY Growing School
Songs for EVERY Happy, Healthy School 
Songs for EVERY Occasion
Songs for EVERY Season 
Songs for EVERY Singing School
What's included:
Activity Songbook with:
At-a-glance song information chart providing an overview and links to the music curriculum
4 colour pages of imaginative ideas & curriculum links relating to the theme of the book
Fantastic music activity page with teaching tips for each song, linking to fun and focussed learning
Glossary of musical terms, specifically to help non-specialists
Music score and song lyric sheets for 15 songs (piano music score, melody and chords)
Audio CD with:
Vocal tracks sung by children
Professional backing tracks
Words on Screen™ v2 CD ROM for use in a computer with:
Words on Screen™ v2 versions of songs so that you can display song lyrics on any whiteboard, computer screen, television or interactive touchscreen. The lyrics synchronize with the music as it plays making them easy to teach and easy to learn
Extractable MP3s, printable lyrics, scores & additional resources
Enhanced operation features including 'double-click' to hear and teach a single line
Words on Screen™ Online with:
An online copy of your product to stream or download on-the-go
Flexibility to create an expandable library of Words on Screen™ v2 song collections, nativities and musicals in your Out of the Ark online account
All features of your Words on Screen™ v2 CD ROM
One FREE fully signed video of a song (one from each Songs for EVERY series title) to stream from your online account
Ages 5-11
Activity Songbook & Audio CD – £24.95
Activity Songbook, Audio CD & Words on Screen™ v2 CD ROM – £42.95
Songs for EVERY Series Box Set:
All 10 inspirational titles in one complete box set!
Includes 10 x Activity Songbooks, 10 x Audio CDs and 10 x Words on Screen™ v2 CD ROMs, plus CD/CD ROM presentation box and song reference guide.
10 FREE fully signed videos of 10 songs (one from each Songs for EVERY series title to stream from your online account
Songs for EVERY Series Box Set – Was £429.50. Now £329.50
About the Provider
Out of the Ark Music provide award-winning singing resources to over 18,000 primary school and early years settings across the U.K. We now offer outstanding CPD training aimed at every teacher in every school.