Association of British Orchestras
The ABO is the national body representing the collective interest of professional orchestra, youth ensembles and the wider classical music industry throughout the UK. Our mission is to enable and support an innovative, collaborative and sustainable orchestral sector, and we exist to provide advice, support, intelligence and information to the people who make British orchestras a global success. The key Strategic Objectives of the ABO cover three areas of activity: Connecting, Championing and Developing.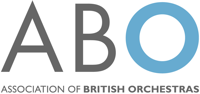 This report provides an update on key statistics for the orchestra sector in 2016.