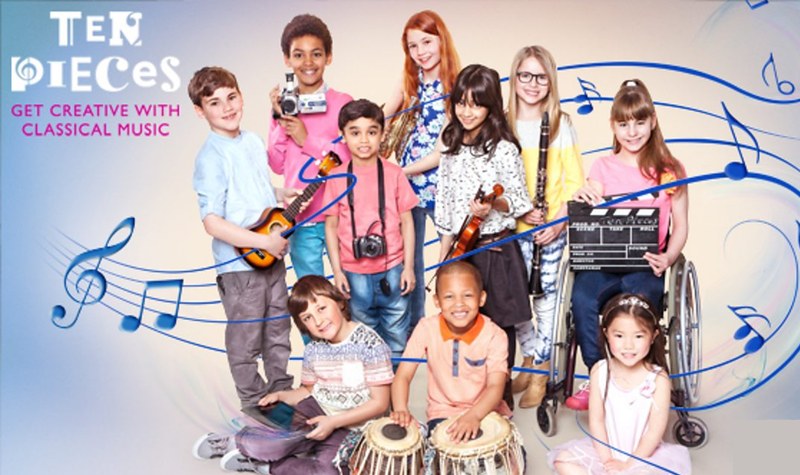 Launched in 2014, the BBC's Ten Pieces is an ambitious initiative for school pupils, which aims to open up the world of classical music to a generation of children by using ten pieces of music as a spring-board for creativity, alongside a range of online resources, UK-wide events and close collaboration with music and arts organisations. The first year of the project has so far engaged more than half of UK primary schools and the initiative has now been extended to secondary schools with a new selection of music.
Schools begin their involvement in the project by watching one of the Ten Pieces films (Ten Pieces I for primaries and Ten Pieces II for secondary schools). Each film features stunning footage of a BBC Orchestra performing a selection of orchestral music that represents a wide range of styles and eras relevant to the Key Stage 2 or Key Stage 3 Schools can order free copies of the Ten Pieces films on DVD from www.bbc.co.uk/tenpieces
Once students have seen the film, teachers can access online resources to enable students to develop creative responses inspired by the music – either through dance, performance poetry, composition or digital art. Schools can also attend workshops and live performances of the Ten Pieces across the country throughout the year.
The project is backed by a range of Ambassadors, helping inspire children and the wider public with their passion for classical music. Ambassadors include violinist Nicola Benedetti, trumpeter Alison Balsom, baritone Roderick Williams and electronic band Clean Bandit.
Ten Pieces is delivered on the ground through an existing network of nearly 260 music hubs, music education services and arts organisations, working at both primary and secondary level.
Ten Pieces – Primary
John Adams: bbc.co.uk/programmes/p020ym4t
Beethoven: bbc.co.uk/programmes/p0240sm4 (1st movement)
Britten: bbc.co.uk/programmes/p020ylx0
Grieg: bbc.co.uk/programmes/p020ylmx (from Peer Gynt)
Handel: bbc.co.uk/programmes/p0240sqz
Holst: bbc.co.uk/programmes/p0240sc6 (from The Planets)
Mozart: bbc.co.uk/programmes/p020y213 (3rd movement)
Mussorgsky: bbc.co.uk/programmes/p0240trf
Stravinsky: bbc.co.uk/programmes/p020y2ln (Finale)
Anna Meredith: bbc.co.uk/programmes/p020y31d
About the Provider