Industry Partners
Becoming one of our valued Industry Partners is a unique way to engage with our members, connecting you to the decision makers you need to reach.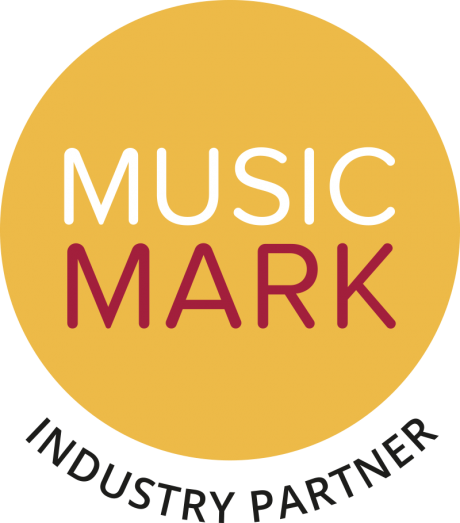 Industry Partnership provides a unique opportunity for you to showcase what you do and connect with thousands of music education leaders and organisations across our membership and the wider sector. Whether sharing your message in a newsletter or promoting your products and services at one of our event exhibitions, we offer a wide range of channels to help you build relationships, expand your reach, and engage effectively with the Music Mark network.
Events – Showcase your brand through sponsorship and exhibition at our events and conferences, both in-person and online.
Newsletters – Directly reach new customers with your products and services by contributing to our regular newsletters.
Website – Share your offers, news, events, banner adverts, and resources on the Music Mark website visited by 14,000 average monthly users.
Social – Amplify your message and connect into our online community of over 19,000 followers across Twitter, Facebook and LinkedIn.
Stay connected – Attend member events, network with peers, and keep up to date with the latest news in the music education sector.
Take a look at what's included in our Standard and Premium Industry Partner packages below.
To become a Music Mark Industry Partner, choose between our Standard and Premium packages:
Industry Partner Benefits and Opportunities
Standard Package
Premium Package
£250+VAT per year
£500+VAT per year
Exhibit at the Music Mark Annual Conference and a variety of events and regional conferences throughout the year.
Sponsor lanyards, lunches, the conference dinner and more at the Music Mark Annual Conference.
Sponsor rooms and awards at the Music Mark Annual Conference.
Reach Annual Conference delegates with exclusive access to email addresses (where permission has been given).

Only when purchasing selected sponsorship packages

Only when purchasing selected sponsorship packages
NEW! Sponsor webinars and online events.
Share your news in our range of weekly, monthly, and termly newsletters.

Up to 50 words

Up to 50 words plus hyperlinked banner
NEW! List exclusive offers for Music Mark members on our new Member Offers page.
List your organisation on the Music Mark Member Directory.
Share your news, events and resources on the Music Mark website.
Get your message to our audience through our social media channels.
NEW! Be introduced to Music Mark's followers as an Industry Partner with one 'Meet the Partner' social post per year.
Advertise your job vacancies on our Music Education Jobs Board at a discounted rate of £100+VAT per advert.
NEW! Display your banner ads on the Music Mark website, with new banner placements available.

One advert included in your package per year. For additional banners, enquire for price.
Add the exclusive Music Mark Industry Partner logo to your website and publications.
Access member-only resources, training and events with personal member logins for you and your employed staff team.
Keep up to date with the latest music education news, training, events, and resources in our monthly Member Newsletter.
Hear about our upcoming promotional opportunities in our exclusive Industry Partner email updates.
Get advice and support from the Music Mark team and our Advice Partners.
Key

Included in package 

Available at an additional cost (enquire for price)

Music Mark is here to support your whole team of employed staff. When you join us, we'll invite you to set up your staff team with their own free Music Mark accounts affiliated to your organisation's membership. They'll then be able to benefit from our training, events, resources, offers, newsletters and lots more.