Peripatetic Music Teachers: Voice, Piano, Keyboard, Brass, Double Bass, Violin
£20 - £30 per hour
We are seeking skilled and experienced teachers in vocal, violin, double bass, brass, piano and keyboard to join our expanding music educator team. Teaching is available at evening Music Centre and in schools for individual lessons, small group lessons and whole class first access.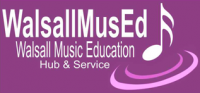 Employer
Walsall Music Education Hub & Service
Contract Type
Freelance/ Self-employed
Closing Date
18th February 2022
We currently require an engaging vocal specialist and would like to hear from educators from a range of disciplines: classical, musical theatre, jazz, pop vocals. Candidates with personality, skill and the ability to engage young performers with vocal progression quickly, will be successful. Keyboard skills would be advantageous.
We also seek teachers in:
Double bass
Violin
Brass (trumpet/trombone)
Piano
Keyboard
Tuition may be at our evening Music Centres as well as in the school setting. School lessons vary from primary to secondary and from small group to whole class first access.
Successful candidates will find opportunities to grow with fully supported CPD throughout the year.
A music graduate or equivalent with previous teaching experience is desirable.
We are a small Music Hub with a number of strong partnerships with other arts organisations. Alongside our large programme of in-school and Music Centre activities and engagement, we have an exciting and challenging programme of large scale events.
The position(s) will be paid hourly.
How to Apply
Please send your CV to Stephanie Dufty at sdufty@walmused.org.uk outlining your relevant experience. Please also include a statement (maximum 500 words) as to why you would be the right person to join our team.