Peripatetic Music Teachers and Ensemble Directors
We are seeking skilled and experienced teachers in upper strings, brass, woodwind, vocal, piano, electric guitar and bass guitar to join our expanding music educator team. We have a variety of opportunities available from individual lessons, small group and ensemble direction at our evening music centres as well as First Access and small group teaching in the school setting.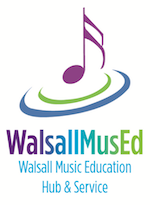 Employer
Walsall Music Education Hub and Service
Closing Date
31st January 2020
We currently require upper strings specialists to run string ensembles on our Tuesday night music centre – Intermediate and Seniors – as well as teaching individual lessons with a growing waiting list. We have a dynamic team running a number of progressive ensembles and the successful candidates will need to be equally dynamic, energised, creative and keen to develop the current string environment. You will need vision, commitment, energy and want fun, high expectations and opportunities for your players. Opportunities within the school setting may well develop from this initial appointment.
We also seek an outstanding vocal specialist for both school based as well as evening ensembles. Our hugely successful vocal programme and singing strategy is ready to expand and we would like to hear from engaging vocal educators from a range of disciplines: classical, musical theatre, jazz, pop vocals….any area of vocal technique. Candidates with personality, skill and the ability to engage young performers with vocal progression quickly, will be successful. Keyboard skills would be advantageous.
In addition we have a waiting list for students seeking individual lessons in woodwind (flute and sax particularly), piano, electric guitar and bass guitar and there is also the possibility of some in-school, 1st Access/WCET brass teaching.
Successful candidates will find opportunities to grow with fully supported CPD throughout the year.
We are a small Music Hub and Service supporting 95 schools but with a growing team. Many of our schools and pupils come from disadvantaged backgrounds and we pride ourselves on the huge number of pupils we have engaged in musical activity in spite of the barriers they or their schools may face. We have a number of strong partnerships with other arts organisations and alongside our large programme of in-school and Music Centre engagement we have an exciting and challenging programme of large scale events.
The position(s) will be paid hourly.
How to Apply
To submit an application, please send a CV outlining your relevant experience by email below. Please also include a statement (max 500 words) as to why you would be the right person to join our team.
This Job Vacancy has Closed
Browse all available jobs or sign up to receive job updates straight to your inbox.