Music Tutors
Unqualified Teachers Pay scale
Immediate part-time contracted vacancies are available for specialists in upper brass, drum kit/percussion and classroom specialists. We also have vacancies for all instrumental and classrooms specialisms on a casual basis.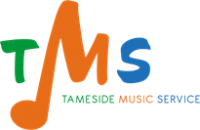 Employer
Tameside Music Service
Location
Tameside Metropolitan Borough
Contract Type
Part-Time Permanent, Part-Time Fixed-Term Contract
Closing Date
27th January 2022
At Tameside Music Service we are a passionate and progressive team who are committed to supporting the musical journey of both the children and wider community of Tameside. Due to the development of our Service, we are delighted to offer several opportunities for full and part time Music Tutors to work with us in delivering excellent quality and inspirational music tuition. You will be an accomplished musician with experience in delivering high quality music lessons. Above all, you will share our passion for and commitment to inspiring and equipping our pupils to be the best musicians that they can be.
This Job Vacancy has Closed
Browse all available jobs or sign up to receive job updates straight to your inbox.