Music Tutors
Coventry Music are looking for tutors to join an expanding team in a variety of delivery including, 1:1, small group, Whole Class, Ensemble and Curriculum delivery.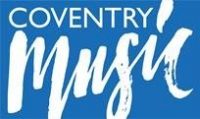 Closing Date
5th November 2021
Required immediately are tutors to teach:
• KS1 and KS2 Whole Class Instrumental provision
• Guitar
• Keyboard
• Ukulele
• Woodwind
Coventry Music is a forward thinking organisation looking to enable high quality inclusive music making for all children and young people in the City. The 2021 UK City of Culture has a booming and developing cultural scene and an appetite for increased music delivery in schools.
Coventry Music are looking for self-employed tutors to join a team who can deliver lessons up to Grade 8 standard on your first instrument/voice and an understanding of how to prepare, plan and deliver music sessions in a variety of settings. Knowledge of current trends in music education is advantageous alongside experience in delivering music tuition. Tutors who have skills working in extended learning centres, with vulnerable children and in SEND settings would help enable the Hub goal of a fully inclusive music offer for the city.
Pay rates
Curriculum – £32p/h
Ensemble/WCET – £30/h
1:1/Small Group – £27p/h
This Job Vacancy has Closed
Browse all available jobs or sign up to receive job updates straight to your inbox.