Music Teacher
£20,534-£26,032 (UQT Band 3-6)
Teachers' Pay & Conditions
String specialist – To teach strings in whole class, group and individual setting, to support orchestras and ensembles in the borough
Curriculum specialist – to teach whole class music across the borough including supporting our wider opps whole class instrumental programme
Piano specialist – to teach piano 1-1 in schools and at our music centre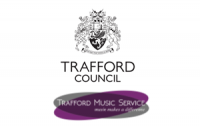 Employer
Trafford Music Service
Location
Trafford Schools and Trafford Music Centre
Contract Type
Full-Time Permanent
Closing Date
19th May 2017
JOB TITLE: Music Teacher
WORKING PATTERN: Full time 27.5 hours or Part time positions
WORKING HOURS: To be negotiated, may include evenings
DIRECTLY RESPONSIBLE TO: Head of Music Service
Trafford Music Service are seeking to recruit a music teacher who is looking for an exciting challenge working to support the development of Trafford's highly regarded Music Service. We particularly welcome upper string specialists, Primary Curriculum specialists and piano specialists in applying for this post. You will need to be a self-motivated individual, an excellent and passionate teacher and absolutely love teaching children.
For the string specialist the role includes teaching upper strings to children as young as infants ( Year 1) through to secondary age pupils in a range of settings including our exceptionally supportive schools and our Music Centre in Sale as well as being involved in our ensembles.
For the curriculum specialist the role will be teaching Music PPA across the borough and involvement in choirs and ensembles.
The piano teaching will be 1- 1 both in schools and at our music centre
There will be a variety of work such at delivering First Access projects, group teaching, individual teaching and workshops to promote instrumental lessons.
We are offering both full time ( 27.5) hours , or part time positions.
We look forward to supporting the successful candidate in their development and we are committed to providing a nurturing and enthusiastic working environment for our staff.
You will have excellent organisational and ICT skills and an ability to work efficiently to deadlines. Excellent communication, planning and delivery is essential to this role, and above all else we want to recruit someone with a love for teaching children and inspiring the next generation to love music.
Main Purpose of the Job:
String specialist – To teach strings in whole class, group and individual setting, to support orchestras and ensembles in the borough
Curriculum specialist – to teach whole class music across the borough including supporting our wider opps whole class instrumental programme
Piano specialist – to teach piano 1-1 in schools and at our music centre
Main Duties:
Instrumental tutors are required to act in accordance with the policies of Trafford Music Service. Specific duties may include:
Teaching pupils in groups ,individually or whole class, according to their needs.
Preparing resources to aid pupils' learning and progress.
Ensuring pupils' progress is properly monitored and recorded, and providing written reports at least once a year.
Ensuring that teaching spaces are prepared prior to the centre opening to pupils, by arriving well ahead of the start time.
Maintaining written records of instruments issued to pupils as appropriate.
Offering appropriate advice and guidance to pupils.
Being familiar with new repertoire and teaching methods.
Participating in arrangements for further training and professional development.
Attending staff and parents' meetings up to three times a year.
Support pupils, ensembles and groups in concerts and other performances.
Maintaining good order and discipline among pupils and safeguarding their health and safety.
Ensuring that premises in which activities take place receive due care and respect.
Undertake any other reasonable duties as required by the Head of Music Service.
How to Apply
Click the link below
This Job Vacancy has Closed
Browse all available jobs or sign up to receive job updates straight to your inbox.