Music Engagement Officer
£27,514 - £33,486
We are looking for team members who are committed and dedicated music educators who can deliver in a variety of different ways and inspire and develop our tutor workforce. An ideal person in this role would be able to develop new relationships and increase access to music education.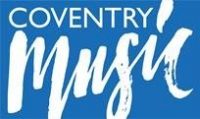 Contract Type
Full-Time Fixed-Term Contract
Closing Date
7th June 2022
What is the job role?
The Music Engagement team have regular teaching commitments throughout the year as well as bespoke music programmes to improve the diversity and accessibility of the wider Coventry Music Hub offer.
Team members work alongside the Learning and Development team to improve and develop music provision city wide and lead provision alongside our team of tutors. There is also, regular working outside of the school day to enable young people to develop their group music making through our ensemble/group programme and concerts/events.
This role can be taken on a variety of contracts including term time only plus 3 weeks (42 weeks), part-time or full time. This is currently a fixed term contract until end of Summer Term 2023, subject to Music Education Hub funding agreements beyond March 2023.
This post is exempted under the Rehabilitation of Offenders Act 1974 and as such appointment to this post will be conditional upon the receipt of a satisfactory response to a check of police records via Disclosure and Barring Service (DBS).
Who are we looking for?
We are looking for team members who are committed and dedicated music educators who can deliver in a variety of different ways and inspire and develop our tutor workforce. An ideal person in this role would be able to develop new relationships, increase access to music education, have a keen interest in developing opportunities and working within a pro-active and energetic team.
You will also have:
High Performance standards on first instrument/voice
Track record as a music educator
Efficient time management skills
Excellent communicator
Knowledge of the music educator sector
About Coventry Music
Coventry Music are the lead provider of Music Education in the city and the Lead Organisation of Coventry Music Education Hub. Our goal is to deliver an inclusive offer of Music Education across the city as part of the wider Coventry City Council Education Offer. Our team deliver across a variety of settings including, Early Years, SEND, Mainstream (KS1-5) and Alternative Provision, as well as evening and weekend activity both at our Drapers' Hall Music Centre and other community venues.
Our Values
It's great to know that you are interested in working with us at Coventry City Council. As a prospective employee, it is important that everyone who works for us is committed to our One Coventry values and shares our commitment to becoming a more diverse and inclusive organisation.
Introduction to Coventry City Council
Coventry is a lively, multicultural city, which embraces old and new. Around the modern city centre there are traces of history everywhere – in the old city walls, the timber-framed buildings and the reconstructed medieval Spon Street. But Coventry has always had an eye on the future, and is now firmly focused on regenerating and re-inventing itself to meet the challenges of the 21st Century. With major developments and new projects taking place right across the city, Coventry City Council is the place to be!
There's a huge buzz about the city – Coventry ranks as the 8th best city to live, work and do business in the UK, and it was the UK City of Culture 2021. We believe this will help put Coventry on the map for all the right reasons as you can feel the sense of local pride throughout the city. It also offers a unique, once-in-a-lifetime opportunity to those joining us to play their part in it.
We genuinely believe that Coventry City Council is a special place. You will be joining Coventry City Council during an exciting time to become part of a team that contribute to achieving our visions for the city. We have made our council a place where we look after our people, making sure you're happy in your work and given everything you need to succeed. We've created friendly, welcoming workplaces where everyone is working towards the same cause, providing the best possible services for the city of Coventry.
As a council with improvement at its heart, we're committed to making life better for the people who live and work in Coventry. We're equally concerned with the quality of life enjoyed by our people, so by joining us, you won't just be helping the community, you'll be helping yourself too.
Not only do you get to work alongside great people that are helping to improve services for our community we offer great benefits too! For your valued contribution we will provide a fantastic benefits package including:
Flexible working arrangements
Generous annual leave allowance starting at 27 days and rising to 32 days
Opportunity for Salary Match and Pay progression through multiple increments
Outstanding local government pension scheme
Learning & Development with access to certified courses.
Access to an award winning Occupational Health Team
Vibrant employee networks
Lifestyle savings
Salary Sacrifice Schemes; Car Scheme, Cycle to work and more
Interest-free travel loans
Payroll giving scheme
Workplace parking scheme
Maternity, paternity and adoption Leave
And much more
This Job Vacancy has Closed
Browse all available jobs or sign up to receive job updates straight to your inbox.