Instrumental/Vocal Teachers – Hourly Paid
Hourly paid
We are currently seeking hourly paid instrumental/vocal teachers to join our team of specialists, ideally to start September 2022.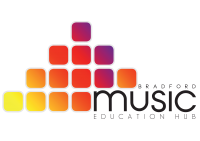 Contract Type
Part-Time Permanent, Part-Time Fixed-Term Contract, Freelance/ Self-employed
Closing Date
31st July 2022
Bradford Music & Arts Service is a highly successful service and the lead organisation for Bradford's Music Education Hub. It provides wide ranging music opportunities for children and young people who live or go to school in the Bradford MDC area.
The service works in close partnership with schools and the local community and a number of delivery organisations to ensure that a broad range of high quality music provision is available, accessible and affordable to all children and young people.
If you would like to find out more about Bradford Music & Arts Service go to: www.bradfordmusiconline.co.uk/site/
Working within a thriving team of instrumental/vocal music teachers, the successful applicants will teach whole class instrumental tuition, individuals, small groups and ensembles to a high standard throughout the district and at the Music Centres.
We are looking for hourly paid staff in the following disciplines: brass, woodwind, percussion, guitar, keyboard, vocal – if you would like to apply for one of these vacancies please go directly to the Music & Arts Service website at: https://www.bradfordmusiconline.co.uk/site/?s=jobs
For further information please telephone Carl White on 01274 435022.