Ensemble Director at Selby Music Centre
Unqualified Teachers Pay Spine
Conductor of ensembles. 3.5 hours on a Saturday morning. Beginner Wind Band; Choir; Junior Guitars.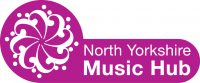 Employer
North Yorkshire Music Service
Location
Selby High School
Contract Type
Part-Time Permanent
Closing Date
8th June 2022
We are rebuilding after the pandemic and therefore looking for enthusiastic musicians to help us do this. We have previously had a thriving Choir, Junior Wind Band and 2 Guitar ensembles, so there is potential in the area to rekindle these groups.
The successful candidate will be directing two of the following ensembles: Beginner Wind Band; Choir; Junior Guitars.
The applicants will need to have had some experience of directing an ensemble and have a good working knowledge of appropriate repertoire.
The successful applicant will need to be able to work as part of a team, and be available for 30 Saturday mornings a year. The contract is on the unqualified teachers pay spine.
This Job Vacancy has Closed
Browse all available jobs or sign up to receive job updates straight to your inbox.