Ensemble Assistants/Leaders and Choirs Accompanist
£31.53 - £36.78 per hour
Salisbury Area Young Musicians is the thriving home of ensemble music making in Salisbury for children and young people. From September 2022 we have several vacancies for ensemble assistants/leaders to join our dynamic team. We welcome applications from Woodwind, brass and keyboard/vocal specialists.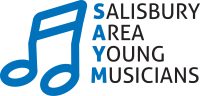 Employer
Salisbury Area Young Musicians
Contract Type
Freelance/ Self-employed
Closing Date
7th June 2022
With fifteen different bands, choirs and orchestras rehearsing weekly during the school year, and a membership of over 300 children and young people, Salisbury Area Young Musicians (SAYM) is Wiltshire's largest young musicians' club.
We have several posts available to join our team from September 2022. Successful applicants will be dynamic professionals ideally with experience of working with ensembles, but we are also happy to consider suitable candidates new to leading ensemble music making.
For a full list of the vacancies and more information about the posts visit the What's On page of the SAYM website.
How to Apply
Please send a CV and covering letter to manager@saym.org.uk
Suitable for UK based applicants eligible to work in the UK
If you have any queries after visiting our website, please do get in touch with the Richard Parsons the SAYM Manager at manager@saym.org.uk.