Curriculum Lead and Project Lead
£33,121 per year
term time only
To enable Calderdale Music to achieve the next exciting steps in our journey, we are seeking to create two new positions which will establish our Middle Leadership Team. These positions are a Curriculum Lead and a Project Lead.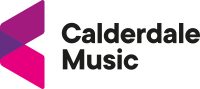 Employer
Calderdale Music
Contract Type
Full-Time Permanent
Closing Date
8th May 2022
The following positions are currently available:
Curriculum Lead:
Project Lead:
Start Date: 5th September 2022
Our Opportunity
The successful candidates will provide outstanding teaching and learning experiences and ensure that everyone is engaged positively in learning. You will be an experienced leader and musician within your field with a proven ability both as a performer and as a teacher. You will also have experience of directing large musical ensembles and concerts. These roles will also involve teaching for one evening per week and occasional Saturday mornings at our Music Centres.
These positions represent a genuine opportunity to make a significant impact at Calderdale Music, centred on providing excellence, we aspire for our children and young people to be outstanding in all that they do.
In return, we can offer you:
A high level of support from staff and colleagues within Calderdale Music
A friendly and caring organisation, where all stakeholders work together for the benefit of the children and young people
Motivated, dedicated staff and a committed, active and supportive Board of Trustees
An organisation which supports pupils to aspire to the very best, with a broad and innovative curriculum offer
An excellent induction and continued professional development programme
The chance to accompany our talented musicians to high profile performances nationwide
An iPad for use in the classroom and administration
About Calderdale Music
Calderdale Music is committed to providing high quality music education and opportunities to children and young people, working to bring Calderdale communities together through music and the arts.
As the lead organisation for Calderdale Music Hub, operating from the stunning flagship Halifax HQ, we also work with local schools, cultural organisations and community groups to bring life-enhancing musical opportunities and live performances to the doorsteps of Calderdale.
Our vision for the future is to open life-long music and arts education opportunities to all, providing a cultural heart for Calderdale that unites, motivates and inspires people to live more creative lives.
To enable Calderdale Music to achieve the next exciting steps in our journey, we are seeking to create two new positions which will establish our Middle Leadership Team. These two posts will be crucial in increasing ensuring that Calderdale Music meets its strategic and operational objectives. These are that by 2025, Calderdale Music will:
provide excellent music education for everyone in Calderdale
engage with and have an active partnership with 100% of schools, academies and other education providers and institutions
actively seek to engage and support all disadvantaged and vulnerable children and young people in music education
be recognised throughout the region for excellence in all areas of provision
lead on national initiatives, partnerships and opportunities
How to Apply
Please complete the relevant application form in full and email to admin@calderdalemusictrust.org.uk.
Closing date for applications: Midnight, Sunday 8th May 2022
If you would like the opportunity to discuss any part of this exciting position in more detail, please contact admin@calderdalemusictrust.org.uk to arrange a telephone meeting.
Supporting Information
The supporting information section of your application should clearly evidence your ability to meet the requirements we have outlined in the person specification. This will be used to shortlist applicants for this role and therefore it is imperative that you provide evidence as requested.
References
When completing your application, please provide two employment references.
Calderdale Music is committed to promoting and safeguarding the welfare of children and young people. All posts are subject to an Enhanced Disclosure by the Disclosure & Barring Service. All references will always be taken up in advance of interview, and we may contact other previous employers for references.
Safer Recruitment
The safer recruitment process is an important aspect of protecting children and adults at risk of harm by keeping them safe. It applies to all individuals who have contact with, and access to, children, and applies equally to volunteers and paid employees. Calderdale Music is committed to creating an environment that enables children to learn, develop and express themselves in a safe, understanding and encouraging environment.
This Job Vacancy has Closed
Browse all available jobs or sign up to receive job updates straight to your inbox.