Curriculum, Instrumental and Subject Lead Teachers
£20 - 26.50 per hour
We are looking for a talented Full Time Head of Guitar, Part Time Curriculum Teacher, Part Time Double Bass Teacher and Part Time Woodwind teachers with Flute specialism.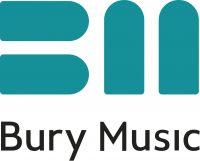 Employer
Bury Music Service
Location
Bury, Greater Manchester
Contract Type
Full-Time Permanent, Part-Time Permanent
Closing Date
30th June 2022
Bury Music are looking to fill the following roles to start in September 2022.
Head of Guitar: This is a full time (term time only), salaried position. We are looking for a talented individual who has vision and drive to develop this vital part of our instrumental offer. We offer classical guitar at primary school and expand our offer in secondary schools to include electric and bass guitar. We are also looking to expand our popular music offer, including ensemble playing and rock school type activities. Experience of delivering Wider Opportunities (First access) preferable. A driving licence and access to a car is essential for this role.
Part time Curriculum Teacher: Due to our ever expanding work in this area we are looking for an experienced, talented music curriculum teacher to deliver music lessons in schools, run choirs and 'Big Sings' and support our Curriculum Lead in our CPD programme. Our Curriculum team run workshops, projects and training alongside their delivery and some overtime and evening/weekend work will be expected. The role will be for two or three days per week with the possibility of expanding the role. Driving licence is essential.
Part time Instrumental Teachers:
We are looking for experienced woodwind (Candidates should be able to teach flute to a high level) and Double Bass teachers who can teach individual and small group lessons, and to have some experience of delivering Wider Opportunities (First Access) is preferable. These are part time roles with the potential to expand the work. A driving licence is essential.
Our Double Bass department is in need of expansion and we are looking for a candidate who can enthuse pupils to take up the bass and join our wide range of ensembles. This teaching can be done in schools or at our Music centre in Bury in an evening/Saturday morning.
How to Apply
To apply, please email a CV and covering letter to gemma.price@burymusic.co.uk.
We recommend that applicants apply early as we will interview as soon as applications come in.
Bury Music strives to be diverse and inclusive place where we can ALL be ourselves. We particularly encourage applications from people who identify as Black, Asian or from a Minority Ethnic background, who are underrepresented at the Music Service.
All roles are subject to a full DBS check and references must be supplied.