Community Musicians, Instrumental Teachers and Ensemble Leaders
£24 – £29 per hour
Newham Music, the award-winning Music Education Hub, is looking to add to our talented team of musician teachers in a range of roles and projects across the borough.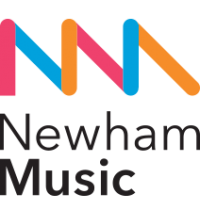 Closing Date
31st March 2019
Newham Music is looking to connect with inspiring and talented community musicians to deliver high-quality, authentic music projects and tuition throughout the borough.
We are especially looking to recruit those with background experience in:
-Music Technology
-Music Production
-Rap, Grime, Electronic music
-World music genres (i.e. Bangara, Yoruba, Gamelan, Caribbean, etc)
-Songwriting
-Lyric writing
-Youth work
Newham Music is a leading provider of music education in the region and an award-winning Music Education Hub. We work with a range of partners to deliver music opportunities to all children and young people in the area. Successful applicants will support young people across the borough through our inclusive programme of activities including:
-Whole class tuition
-Small group and 1-1 lessons in schools
-Small group and 1-1 lessons after school and on Saturdays at the Newham Music Academy
-Project delivery in community locations throughout the borough
-Ensemble leading
Additionally, we are always looking for experienced, inspiring teachers with excellent musical skills to join our successful team.
Instrumental teachers and Ensemble leaders
Teachers will need the following:
-Experience or desire to develop skills in small group teaching (up to 6 in a group)
-Teaching skills which focus on practical, music making activities leading to regular performances
Enthusiastic class teachers
Teachers will need all or some of the following depending on the teaching placement:
-Class music teaching skills, which place an emphasis on practical, creative music making in the classroom
-Ability to teach a range of musical styles including composition and improvisation
-Commitment to teaching musicianship skills through the voice
-Experience in Large Group, Mixed Ensemble and/or Workshop Leading Skills
Hourly paid teachers and project leaders receive £24 – £29 per hour and we can accommodate for flexible working schedules.
How to Apply
To apply, please download and complete the application and self-disclosure forms from link below and send, along with your CV and Covering Letter to info@newham-music.org.uk. Please indicate in the subject line what job you are applying for.
This Job Vacancy has Closed
Browse all available jobs or sign up to receive job updates straight to your inbox.