Assistant Head (Music Curriculum)
Leadership scale point 4-8
Bradford Music & Arts Service is a highly successful service and the lead organisation for Bradford's Music Education Hub. It provides wide ranging music opportunities for children and young people who live or go to school in the Bradford MDC area.
The service works in close partnership with schools and the local community and a number of delivery organisations to ensure that a broad range of high quality music provision is available, accessible and affordable to all children and young people. We are embarking on embedding a long term Musical Inclusion Strategy, ensuring access to music for all.
We are excited to be advertising this position:
Assistant Head / Head of Curriculum and Vocal Team – Full time (1 year fixed term in the first instance)
Leadership scale point 4-8
Starting 01 September 2021 (or earlier if possible)
Closing Date: Friday 23 April 2021
Interviews: w/c 10 May 2021
Leading a thriving team of curriculum/instrumental/vocal music teachers, the successful applicant will teach whole class instrumental and curriculum, deliver CPD to school staff, assist in leading the Inclusion Strategy and wider events for the young people of the Bradford District.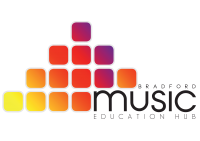 Employer
Music & Arts Service Bradford (Bradford MDC)
Contract Type
Fixed-Term Contract
Closing Date
23rd April 2021
Key Purpose of Post:
To support and deputise for the Head of Music & Arts Service in delivering an effective and efficient service to schools. This will include assisting in the deployment of specialist teachers and project workers across the whole service.
Cover all aspects of the management of the Bradford Music Education Hub.
Support schools in music curriculum and development including vocal strategy development.
Support large event planning and management of musical events for both schools and service ensembles eg Schools' Prom.
Main Responsibilities of Post:
As a member of the Instrumental Music Service's Senior Management Team the post holder will be required to:-
1. Contribute to the Music & Arts Service Local Authority Music Plan and Team and Hub Plan, whilst supporting the management of the Bradford Education Hub. Representative of the Council as required.
2. Formulate an overview of participation opportunities across a range of schools to assess, advice, support and challenge as appropriate.
3. Participate as an active member of the Senior Management Team (Strategic and Operational) for the Music & Arts Service.
4. Lead or support service management groups in planning service improvement and coordinate planning and service improvement.
5. Line manage (up to 34 staff) and set performance management targets for allocated staff which will range from core contracted teachers, hourly paid instrumental and vocal teachers or pianists and self-employed teachers)Implement and have regard to Bradford Council's policies and procedures.
6. Implement and have regard to Corporate policies and procedures particularly regarding music and arts policies.
7. Be responsible for curriculum music materials and related work as directed by the Head of service
8. To deliver a personal teaching commitment as agreed with the Head of Service
9. To be involved with budget overview/debt management/price setting
10. Using own judgement daily to make decisions and advise staff seeking advice appropriate.
11 To assist Head of Service in all aspects of staff management providing guidance as
required.
12. Largely work on their own initiative but consulting with Head of Service on
operational/strategic issues in a timely fashion to ensure smooth continuity of the service.
13. Utilise specialist management/teaching skills to inform planning, organising and
communication within Service and Hub.
14. Regular contact with head teachers and other school staff, parents, pupils, senior
Management and elected members
Structure:
Special Knowledge Requirement:
Has implemented working practices, procedures and basic operations across a specialist area or number of specialist areas relating to instrumental and music curriculum teaching methods across a peripatetic service.
Uses a range of specialist ICT systems across own work area and or across other areas of work.
Oversees or contributes to the management of a budget , keeping costs within agreed levels for own section/team.
Uses, interprets, analyses, communicates complex numerical information.
Apply knowledge and understanding of local and national initiatives and developments within a music environment.
Work with a high degree of autonomy within an established framework within a range of educational establishments.
Ability to identify and enhance musical opportunities for all pupils
Knowledge of supporting schools and musical establishments.
Relevant experience requirement:
A minimum of 5 years teaching experience working in a music education environment.
Experience of planning and delivering training related to music.
Experience of effective staff management
Experience/knowledge of peripatetic/hub working practices.
Relevant professional qualifications requirement:
Briefly outline the qualifications which are ESSENTIAL to the post. Please complete this section as it is essential short listing criteria for recruitment.
Qualified teacher status.
Musical qualification certificate/diploma in first study discipline.
Undertaken in-service training courses in areas relating to music service management.
Carries Out Performance Management – covers the employees capacity to manage
their workload and carry out a number of specific tasks accurately to a high standard.
Communicates Effectively – covers a range of spoken and written communication skills required as a regular feature of the job. It includes exchanging information/building relationships, giving advice and guidance, counselling, negotiating and persuading and handling private, confidential and sensitive information.
Carries Out Effective Decision Making – covers a range of thinking skills required for taking initiative and independent actions within the scope of the job. It includes planning and organising, self effectiveness and any requirements to quality check work.
Undertakes Structured Problem Solving Activity – covers a range of analytical skills required for gathering, collating and analysing the facts needed to solve problems. It includes creative and critical thinking, developing practical solutions, applying problem solving strategies and managing interpersonal relationships.
Operates with Dignity and Respect – covers treating everyone with respect and dignity, maintains impartiality/fairness with all people, is aware of the barriers people face.
Operates with Strategic Awareness Our managers work with corporate priorities and policies in a joined up way with others, internally and externally. Works democratically, transparently and accountably.
Practices Appropriate Leadership Our managers motivate their staff to exceed expectations through raising their awareness of goals and moving them beyond self interest for the sake of the team or service. They consider serving the District in all that they do.
Delivering Successful Performance Our managers monitor performance of services, teams & individuals against targets & celebrate great performance. They promote the District's vision & work to achieve Council's values & agreed outcomes.
Applying Project and Program Management Our manager's work to ensure that outcomes and objectives are achieved within desired timescales, make best use of resources and take a positive approach to contingency planning.
Developing High Performing People and Teams Our managers coach individuals and teams to achieve their potential and take responsibility for continuous improvement. They champion the Council's values and goals.
Working Conditions:
Must be able to work evenings, weekends and Bank Holidays as required by the needs
of the service. Must be able to perform all duties and tasks with reasonable adjustment, where appropriate, in accordance with the
Equality Act 2010 in relation to Disability Provisions.
Special Conditions:
Disclosure and barring Service (DBS) check or Update Service access.
Working within the safeguarding framework.
Must have a driving licence and use of a vehicle.
This Job Vacancy has Closed
Browse all available jobs or sign up to receive job updates straight to your inbox.