'Apprentice' Ensemble Leader
£30.60 per hour
If are you looking to develop your ensemble leadership skills then we have the perfect opportunity for you. Salisbury Area Young Musicians has a one year 'apprenticeship' position at the Salisbury Saturday Morning Music Centre. We are looking for a well-qualified, dynamic graduate – woodwind, brass or strings. You may be relatively new to teaching or experienced in individual and small group teaching wanting to extend your skills in ensemble work.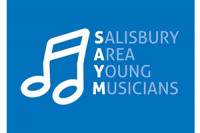 Employer
Salisbury Area Young Musicians
Closing Date
30th June 2017
Required for September 2017
With the emphasis very much on enjoyment as well as achievement Salisbury Area Young Musicians (SAYM) has been providing music making opportunities for children and young people for nearly 30 years. With weekly rehearsals for choirs, bands and orchestras over 350 young musicians aged 4 – 18 attend one or more of our fifteen ensembles.
Working alongside our experienced ensemble leaders you will have the opportunity to conduct one or more of our ensembles and receive ongoing mentoring from a member of our team. The position is on a self-employed basis with a commitment of 2 hours (@ £30.60 per hour) on 32 Saturdays across the academic year and some additional concerts. For further details please contact Richard Parsons – manager@saym.org.uk
How to Apply
Please email your CV with a covering letter stating relevant teaching, performing and ensemble leadership experience to Richard Parsons – manager@saym.org.uk.
This Job Vacancy has Closed
Browse all available jobs or sign up to receive job updates straight to your inbox.