Administration Assistant
BEX05
An exciting opportunity exists for a versatile and committed, highly flexible and motivated part time Administration Assistant to work within Bexley Music, lead organisation of the Bexley Music Education Hub and part of the London South East Academies Trust, based within Belmont Academy. This varied role will include administrative support for examinations, performances, music tours, website and social media; secretarial support for Bexley Music Boards; administrative support for Music Hub partnerships; reception duties where necessary. The working hours are 0.4 (2 days per week or the hours spread across a number of days by arrangement).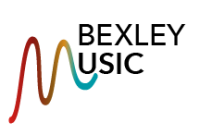 Location
Bexley Music, Belmont Academy, Belmont Road DA8 1LE
Contract Type
Part-Time Permanent
Closing Date
16th August 2021
The successful candidate will share the ethos of Bexley Music which aims to provide high quality music opportunities for all.
You will join us at an exciting time in Bexley Music's journey. You will be supported by the staff team and have the opportunity to work within a welcoming, creative school environment.
We are interested in someone:
• With relevant arts administration experience, including some musical knowledge (e.g., instruments etc.)
• Who is very well organised and good at prioritising and able to work at a fast pace.
• Who is a good communicator and used to dealing with the public.
• Enjoys working in a busy environment and has a flexible approach.
In return we can offer you the opportunity:
• To work in a safe, successful and inclusive educational environment.
• To have access to a wide range of resources and support to help you in the role.
• To work as part of an experienced, friendly and supportive team.
• To access professional development.
Job Purpose:
• To ensure full and accurate administrative support relating to specific aspects of Bexley Music provision and delivery
• To complete a range of tasks supporting student and programme-centred administration
• To make a significant contribution to the smooth running of Bexley Music
Main Duties and Responsibilities:
• Provide administrative support for Bexley Music. This will include the Head, Deputy Head and others (including partner organisations)
• Collate, input, analyse, and store data in accordance with GDPR
• Fulfil reception duties as required (including responding to telephone, email and personal caller enquiries, dealing with queries, taking and acting on messages)
• Monitor attendance of Bexley Music instrumental lessons and ensembles
• Liaise with students, customers, staff and members of the public in person, by telephone and electronically
• Provide administrative support for performances, concerts and music tours
• Manage the administration of music grade examinations
• Maintain an oversight of Bexley Music's website and social media platforms, identifying updates as necessary
• Provide administrative support for Music Hub partnerships (including school provision, partnership programmes etc.)
• Provide secretarial support as required to Bexley Music Boards – minutes and papers
• Prepare and circulate relevant documentation for music teachers
• Prepare, photocopy and distribute various resources (including certificates/concert programmes/information booklets/reports)
• Shred and dispose of confidential material
• Sort and distribute post and deliveries (incoming and outgoing)
• Co-monitor the info@bexley-music email inbox
• Implement all aspects of Bexley Music's Health and Safety, EDI, IT and Safeguarding Policies as appropriate
• Undertake additional duties as reasonably requested by the Head and/or Deputy Head of Bexley Music
• Act at all times in a responsible and responsive manner, with an awareness of the sensitive and confidential nature of the work, and the need for a high level of customer care
How to Apply
To apply for this vacancy please contact info@bexley-music.co.uk to obtain an Application Pack. Application forms should be completed, paying particular attention to how you satisfy the criteria set out in the Person Specification, and submitted via email to: info@bexley-music.co.uk
CVs will not be accepted. The closing date for your application is as stated above.
References will be requested for applicants shortlisted for interview only and prior to interview. Only applicants shortlisted for interview will be contacted.
Bexley Music is committed to safeguarding and promoting the welfare of children and expect all staff and volunteers to share this commitment. All roles are subject to a satisfactory enhanced DBS disclosure and other employment checks. Further vetting checks, in line with the requirements of Keeping Children Safe in Education 2020 will be completed following a provisional offer of appointment.
Bexley Music is committed to equality and diversity in employment practice and service delivery and expects employees to comply with our values of promoting equality and diversity, treating colleagues and service users with dignity and respect at all times. This commitment must be evidenced in practice. Any behaviour that falls below these standards is unacceptable to Bexley Music and potentially constitutes misconduct.
This Job Vacancy has Closed
Browse all available jobs or sign up to receive job updates straight to your inbox.