Rap In The Classroom

In conversation with Nate Holder, The author, composer, and educator Francis Winston provides insight and strategies into how to teach rap with his new book Rap-in -The -Classroom.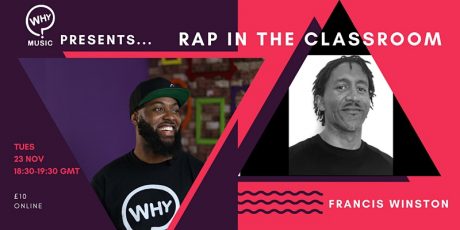 1. Why rap is essential to key stage 3 music?
2. Addressing problems with assessing rappers in Key Stage 4 and 5
3. Tackling the more controversial elements of the art form.
4. Advocating the presence of rap within musical theatre.
Rap-in-the-Classroom is a teaching guide for secondary school music teachers, enabling them to decipher, learn and teach one of the most powerful yet misunderstood musical art forms of the modern age.
It features a complete breakdown of the art of rap with easy-to-understand example lessons and schemes of work for KS3. It also contains vital resources and sharp, clear assessment criteria that will enable students to achieve the elusive higher level of difficulty at GCSE and A' level.
The book is aimed specifically at secondary schools, college teachers and peripatetic vocal teachers.
This event has passed
Browse all upcoming events or sign up to receive our monthly email update featuring our latest news and events.