What is 'African' Music?

The musician, educator Kwame Bakoji-Hume talks about reclaiming the frames of reference for teaching and appreciating 'African' music. In conversation with Nate Holder, Kwame Bakoji-Hume will explore how teaching about African music is often filtered via a European lens and how it loses nuance and content. Also, there are issues associated with thinking about the 'country of origin' for the music. Musical differences between Senegal and Gambia are often non existent, whereas differences between the Ga and Gonga within Ghana can be vast. How can music educators shape content to more accuratly represent various musics of West Africa?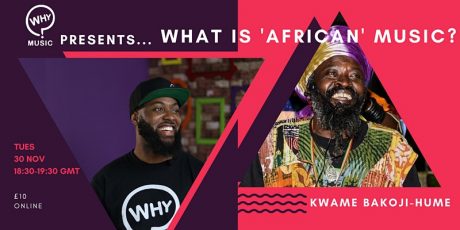 Biography
Kwame Bakoji-Hume was born into a tradition of music and medicine in Buipe, Ghana, West Africa. He was separated from his family at ten by illness and moved to SOS children Village in Tema. After completing college he was sponsored to continue his education at Ghanatta College of Arts in Accra. Kwame was then selected to be the artist in residence at Ghana's National Centre for Culture. During this time he ran a number of community and environmental art and music projects working with the street children of Kumasi and the subsistence farming community around Lake Bosumtwi. In 2000 Kwame relocated to the UK and established African Activities CIC, a collection of West African artists who offer the opportunity to engage with Black and African culture by sharing superb creative artistic experiences that disrupt preconceptions, create community, drive excellence and break barriers. This occupation inspires and influences his musical and artistic practise, which runs alongside his community engagement work.
https://africanactivities.org.uk/
This event has passed
Browse all upcoming events or sign up to receive our monthly email update featuring our latest news and events.