Virtual RSL On Tour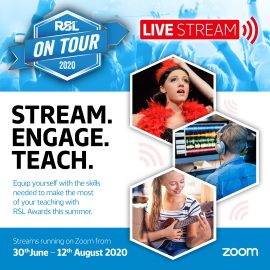 RSL's in-house experts will be delivering two sets of webinars for both instrumental and classroom teachers giving insight into some of our newest graded exams, the benchmarked levels of progression, and some practical approaches for teaching.
The sessions will be a chance for you to ask questions directly to the team and an opportunity to sign-up for FREE materials to help develop the Rockschool and PAA provision in your educational context.
The Rockschool sessions are designed for instrumental and classroom teachers who are looking to teach with Rockschool for the first time or are new to the music teaching profession. Each webinar will cover a different instrument, including: Acoustic Guitar, Piano, Keys, Ukulele and Music Production. Further details can be found on the webpage.
Signing-up to both webinars will give teachers access to our Teach Today programme and access to a FREE digital version of the first three publications for a selected instrument with accompanying Schemes of Work and Guidance. Please note that webinars with the same title will cover the same material in each session.
This event has passed
Browse all upcoming events or sign up to receive our monthly email update featuring our latest news and events.