UK Choir Festival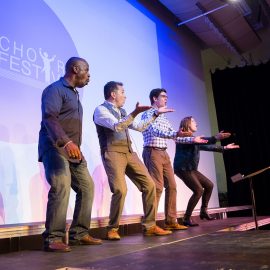 The UK Choir Festival comes to St Albans. On Saturday 19th and Sunday 20th October 350 choristers will descend on St Albans High School for Girls to participate in the event with learning and great music making at its heart.
Created to support, train and bring choirs together, the UK Choir Festival is a non-competitive event. This all-inclusive festival is open to all types of choirs, including community choirs, gospel choirs, barbershop choirs, a cappella choirs, youth choirs and choral societies.
Hailed by American Express Essentials as one of the most "Awe-Inspiring Choral Festivals of the World", the UK Choir Festival enhances the city's arts and culture scene by giving choirs the opportunity to learn from the UK's very best workshop leaders.
With events already taking place across the UK in Chichester, Manchester, York and Exmouth, the St Albans event brings to a close the festival for 2019. Set to return in 2020, the festival will kick off in Manchester in February.
Producer, Russell Scott, said: "I am thrilled the festival has been so popular and so life-changing to singers from all walks of life across the UK."
Rayburn Tours are a Proud Partner of UK Choir Festival 2019
At Rayburn Tours, supporting the aspirations of musicians and providing them with opportunities to grow and develop is at the heart of what we do, which is why we are thrilled to partner with this exciting and fast-growing event. Visit our website rayburntours.com to find out more about our involvement with UK Choir Festival 2019.
Attend this event
Visit ukchoirfestival.com to find out more about the UK Choir Festival and to book your place!
This event has passed
Browse all upcoming events or sign up to receive our monthly email update featuring our latest news and events.