The Big Sing of New Born King with Teachers Rock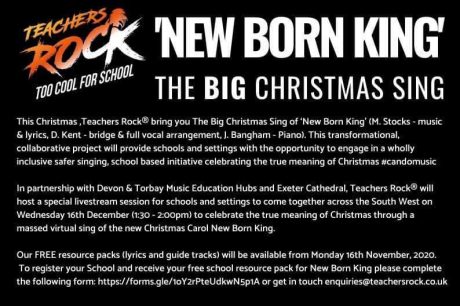 This Christmas Teachers Rock® in partnership with Devon & Torbay Music Education Hub and Exeter Cathedral bring a transformational, collaborative festive project to schools across the UK to engage in a wholly inclusive safer singing experience celebrating the true meaning of Christmas.
Schools absolutely #CanDoMusic this Christmas time .
Our founder, Debbie Kent, has been tirelessly preparing safer singing resources so that schools can engage with this project at a level that is appropriate for individual settings and in accordance with school based musical bubble risk assessments. There will be something for everyone … whether they decide to engage as an active online audience member and use this as an opportunity for some festive music appreciation or whether they download the resources and learn parts of the song to sing with us live on the day.
Here's how schools can get involved:
The Big Christmas Sing of 'New Born King'  (M. Stocks – music & lyrics, D. Kent – bridge & full vocal arrangement, J. Bangham – Piano)
Teachers Rock® will host an extra special livestream session for schools and settings to come together on Wednesday 16th December (1:30 – 2:00pm) to celebrate the true meaning of Christmas through a massed virtual sing of the new Christmas Carol New Born King.
FREE resource packs (lyrics and guide tracks) will be available for schools to download from: Monday 16th November, 2020.
There will also be an additional opportunity to submit creative responses some of which we will aim to broadcast as part of the livestream event. These creative responses could be cross-curricular as well as musical perhaps using the song lyrics as a stimuli for some creative artwork or as a catalyst to consider some creative responses around literacy and song-writing.
Register for this Event
To register your School and receive your FREE school resource pack for New Born King please complete the following form here or below.
If you have any further questions please do not hesitate to contact us at enquiries@teachersrock.co.uk
This event has passed
Browse all upcoming events or sign up to receive our monthly email update featuring our latest news and events.