Summer Term Music Teaching CPD Day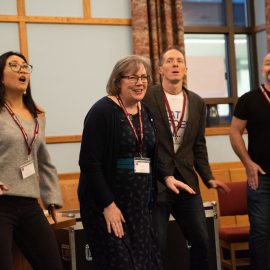 Join Music Mark for the next in our series of online CPD days! We invite member organisations to book this fantastic opportunity to provide peripatetic music tutors with three training sessions.
The event will be split into three individual webinars across the day consisting of presentations and Q&A time and will discuss the following key topics:
Session One: Inclusive Creative Song Writing
A session exploring the creative process of song writing with young tutors from Changing Tracks. This session will look at how to start writing songs and ways in which to develop ideas, including lyric writing, as well as some key considerations when working with a range of young people.
This session is sponsored by Changing Tracks.

---
Session Two: Basics of Hip Hop, Rap, and Grime
In a relaxed and conversational format, this session led by Kenny Baraka will provide a cursory – yet informative – overview of hip hop [rap, grime, trap and drill] and its musical conventions as well as a practical approach to formulating and writing bars; including key considerations and easy to use strategies.
Sponsored by Sound and Music.
---
Session Three: Listen Imagine Compose: Composing for instrumental teachers
Led by Sound and Music and exploring their work as part of Listen, Imagine, Compose, this session will include multiple speakers from academics to instrumental teachers and will look at making composition less intimidating.
Young musicians are naturally open to experimenting and creating music as they develop and explore their instrumental skills. In this session, we will explore how instrumental teachers can help young players develop their all-round musicianship through composing and creating as part of their lessons. There will be practical ideas for activities in 1-2-1 lessons and whole class ensemble teaching to try out during the session, and some food for thought from Martin Fautley.
This session is sponsored by Soundtrap


Attend this event
This event will be available to all member organisations for a price of £150 + VAT and to individual members for £25 + VAT.
This organisational ticket price will allow organisations to share these sessions with an unlimited number of colleagues both live and as a listen again feature. Please note all bookings includeaccess to the recorded content following the event.
If booking as an individual, please do check with your Music Service prior to payment to ensure an organisation ticket has not already been booked.
This event has passed
Browse all upcoming events or sign up to receive our monthly email update featuring our latest news and events.