Spring Summit 2019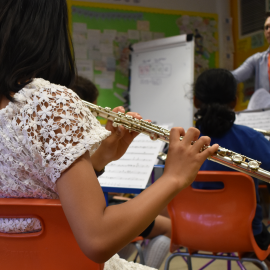 Music Mark hosts its annual Spring Summit; an opportunity for heads and leaders of Music Services/Hubs to discuss current issues. This March, the DfE lead on discussions about the National Plan and we look at Early Years Music Provision.
Agenda:
10 am  –  Registration and Coffee
10.30 am  –  Welcome
10.40 am  –  The 6-year evolution of the Core Roles
Four case studies of how work on a Core Role over the past 6 years has evolved from something which might be considered as quite 'standard' to something more innovative, sustainable and inclusive.
WCET – Luton
Singing Strategy – Lincolnshire
Progression – Bromley
Ensembles/groups – Nottingham
11.15 am  –  Refreshing the National Plan for Music Education
A presentation from David Warden, Department for Education (DfE).
Followed by Q&A and round table discussions
1pm  –  Lunch
2pm  –  The what, why and how of Early Years Music Education? 
An afternoon session curated and run by MEYRC members to include presentations, provocations and round table discussions
3.45 pm  –  The Last Word
4pm  –  Finish and Tea
Attend this event
10am registration for 10:30 start
4.00pm finish
This event is for Music Mark member Hubs only.
Bookings have now close. Please write to rosie.saxton@musicmark.org.uk with any questions.
This event has passed
Browse all upcoming events or sign up to receive our monthly email update featuring our latest news and events.