Small Steps Big Noise – Early Years Creativity Conference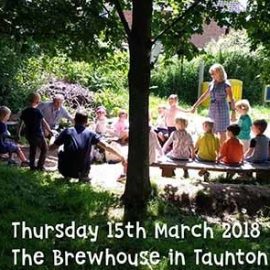 Do you work with the expressive arts and the Early Years, as an artist, educator, setting or funder?
Small Steps: Big Noise is a one-day conference showcasing creativity in practice for 0-5s across the South West, including prominent keynote speakers and vibrant debate led by EY experts, engaging practical workshops and a live show from a professional Early Years theatre company.
The conference has also been set up by Take Art, as a melting pot for best practice and idea sharing, where you can meet and network with key people from your region and get tips and advice on growing your practice.
Key Note Speaker: Dr Susan Young
Take Art is delighted to welcome academically respected Early Years Arts, Music and Education expert Dr. Susan Young, author of 'Music with the Under Fours' and 'Music 3-5' to deliver the Keynote speech to open Small Steps Big Noise, the South West's biggest and brightest Early Years Conference. Susan is one of the UKs leading advocates for creative arts education, with particular reference to early childhood music.
In her keynote, she will challenge and enthuse everyone involved in Early Years creative practice and education, speaking of the vital imperative we all share to promote and articulate high quality inclusive practice.
Rhona Matheson is Chief Executive of Starcatchers, Scotland's National Arts and Early Years organisation. They specialise in creating performances and exploring creative activity for babies, toddlers and young children aged 0-5 and the adults who care for them. She is an inspirational speaker who believes passionately in the transformational power of the arts to inspire Scotland's youngest children and the people who care for them through creativity, performances and engagement projects. "10 years ago, people questioned what the point of theatre and creativity for babies was, in 2017, people question why there isn't more."
In this Keynote, she'll help support us in our call to arms to make this work irrefutable.
For more information and tickets, click HERE.
This event has passed
Browse all upcoming events or sign up to receive our monthly email update featuring our latest news and events.