SAME Online Conference – Back in Business: Supporting you, Supporting Music Education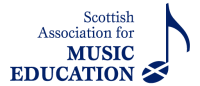 Back in the business of conferences and CPD, the Scottish Association for Music Education returns with an online conference and brings the well-known and successful package of presentations to your doorstep – no travelling, no out-of-school, no cover! Yet the camaraderie and sheer delight experienced at live SAME events is not underestimated and SAME aims to return to a live event at Stirling University early in September 2022.
Both days are open to all delegates regardless of status, categories of presentations etc. Take this opportunity to spread your wings and increase your experience and knowledge.
SAME is very grateful to the ISM for its major contribution to this online event and its support in all matters technical.
Click here to view full conference brochure
This event has passed
Browse all upcoming events or sign up to receive our monthly email update featuring our latest news and events.